You're The Voice (Try 'n Understand It)! (2023)
On March 25, 2003 I set the world record for longest continuous performance of John Farnham's 'You're The Voice.' It was a stunt to promote my debut show in the Melbourne International Comedy Festival 'Living on the edge…of my bed.'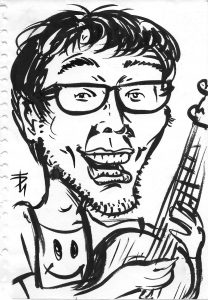 How long can we look at each other
Down the barrel of a gun?
To say I went all out is an understatement.
I was riding high on my previous dream year in which I'd scored my own weekly songwriting segment on Triple J's Morning Show. Each Tuesday morning I would sit at home on my sharehouse couch in Belconnen and hear my voice coming through the radio speakers. It was a thrill and a half. With great power came great responsibility. I wasn't the voice of my generation – but this hard-working, idealistic, witty Christian with an ocean of experience in his backpack took the whole thing very seriously.
I had to Succeed dammit. I had to be a blazing supernova achievement example for all and sundry.
My Melbourne Comedy Festival show came from a dare. My best friend Matt Kelly said "you HAVE to go in the Melbourne Comedy Festival."
I had my doubts. I saw myself as a musician who happened to be funny. I wasn't putting comedian on my tax return.
That said, I was impressionable and suggestible and having grown up with TV shows like Double Dare & Who Dares Wins – never one to back down from a challenge.
I decided to go in the Comedy Festival about a week before the deadline. I didn't even have the $500 registration fee until a mysterious $650 appeared in my account from the ABC.
I remember being in Nan and Pop's bedroom in Wynyard, Tasmania, nervously ringing the Melbourne Comedy Festival office on a cordless phone. I told them who I was and how I'd been on Triple J a bit and how did I get a show going exactly? They said I'd need a venue – but at this late stage it would be tricky. Fortunately, they'd heard that the Butterfly Club in South Melbourne had a spare time slot at 7. I rang the bloke up. He offered it to me. I took it.
I had a nine show run. I was in. I was comedy.
Now all I needed was a show (and some jokes). But that's another story.
Come March I realised there were hundreds of shows in the big smoke and I was some kid from Canberra who'd had a few songs on the radio. At uni, I'd started my own musicians club 'The Harmonica Lewinski's.' I knew a thing or two about self-promotion. I was secretly a bit shy but in the habit of firing up and putting myself out there when it counted.
"You should do a publicity stunt" said Matt (most likely).
As a kid I'd been a fan of the Guinness Book of Records. There were always weird records for longest continuous hair cutting and longest time standing on one leg. I liked the idea of endurance performance.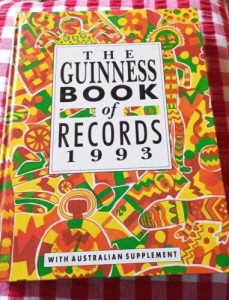 In 2003 'You're The Voice' was still pretty daggy and hadn't been honoured with iconic status in the national consciousness. Everyone was still slightly awkward after saying goodbye to Farnsey on his Last Time tour – only to have him pop back up a couple of years later with more shows.
In terms of promotion I didn't really know what I was doing but I had a rough idea. Combined with the energy of a 22 year old fame chaser I wasn't going to let anyone down. I wrote a press release. I bragged. I bluffed. I blew the Melbourne media landscape a big silly kiss.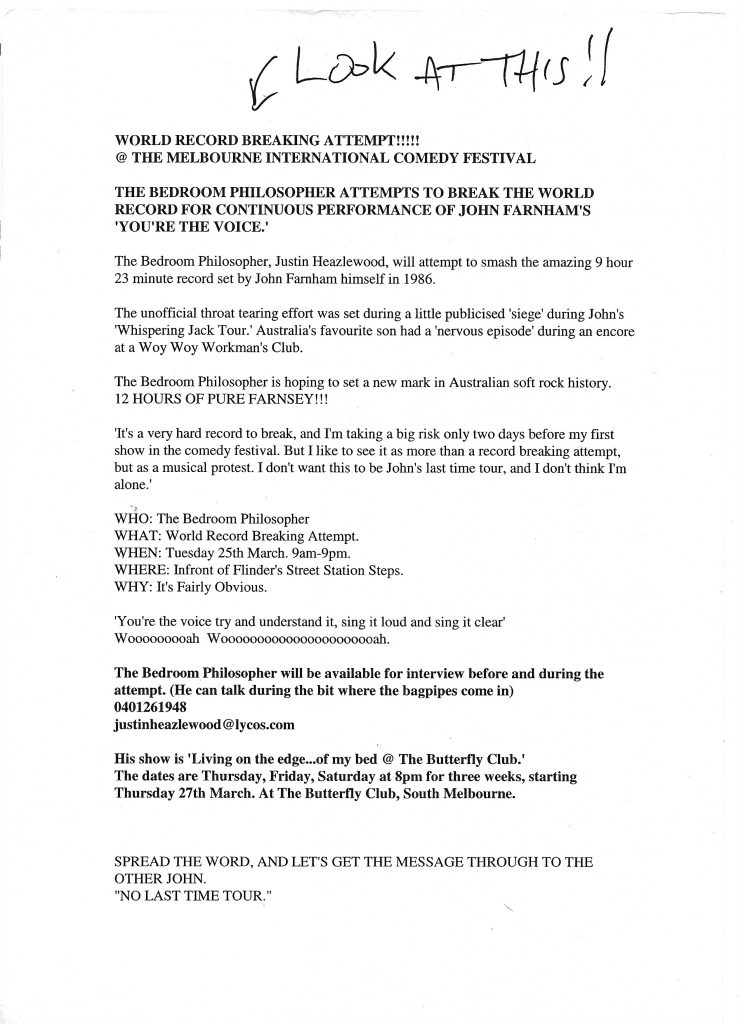 I might have ordered the Australian Music Industry Directory from APRA to get the email addresses of all the media companies. In my bedroom I rocked out with a keyboard solo.
Melbourne friends tipped me off about Flinders Street Station. I didn't care for permission or permits – the plan was to rock up with my indoor clothesline, signage, some flyers, my guitar and a generous supply of pineapple juice. I was going to takeover Melbourne, man.
My biggest concern was damaging my voice so close to the opening night of my show. Apparently pineapples held the secrets to longer lasting vocal chords.
Meanwhile, 3AK got back to me! (Y'know, 3AK….now SEN!) I was living in Sydney at the time and did a surreal phone interview at eight in the morning. The day before the stunt both Channel 9 and Channel 7 news rang to say they'd be there to cover it! My crazy lil' operation seemed to be gathering momentum.
I rocked up to Flinders Street early on Tuesday, March 25. Being a country kid from Tassie, I was still overawed by the highway of people zinging about. All those important looking business types. Real grown-up men in suits.
I was donned in dark grey ski-suit overalls with a yellow 'happy face' T-shirt underneath. With the help of my uni friend James I set up my little station. Music stand, indoor clothesline, banners, and a little box sitting on top with flyers for my show.
At 9 o'clock I kicked off. All the hard stuff was out of the way. Now all I had to do was play. The best way to do something mad is barrel on in and do it. I sang for the first hour. I sang for the second hour. I scurried off for a toilet break. I sculled some pineapple juice.
By the third hour I was still relying on the printed lyrics of the song. My brain simply refused to commit them to memory.
Audience response was casual and bemused. My presence didn't rub anyone up the wrong way. The days most memorable exchanges were with an old lady with crooked teeth who wandered up very close and yelled "ARE YOU CHRISTIAN?"
I nodded.
In the afternoon a girl from the Socialist Alliance with punky hair and scrappy attire got very excited. This was a few years before the song would be adopted as the political catch-cry it obviously is. Years later in 2007 I would help my housemates campaign for the Greens by busting 'You're The Voice' out at the local polling station in Clifton Hill.
One unexpected occurrence was folks slipping money in my flyers box. 'Ha,' I thought, 'they think I'm busking – when actually I'm a promotional mastermind propelling my small business forward.' Bonus.
We can write what we want to write
We gotta make ends meet, before we get much older
Sure enough, a Channel 7 cameraman appeared and captured me in my glory.
My voice was holding up fine. The unforeseen issue was with another part of my body. I didn't know what RSI was but when I moved my wrist up and down it made a sort of creaking sensation.
In my press release I'd promised (threatened) to play for 12 hours. By 6pm I'd been going for nine hours. Momentum was starting to wane. There wasn't as much foot traffic. My uni frenemy Toby took over watch. He wasn't that into it.
"I reckon you've done enough," he said, smirking. "We're over at the Young & Jackson having drinks."
Yes well, a chance to return to the normal world. I played the last D chord and ended my stunt at nine hours.
(A record which still stands, by the way).
Every now and then someone mentions they've been browsing my bio online and noticed this feat. They usually ask if Guinness were present at all. I tell them no, but I did reach out to them. The record is legitimised by its presence on my Wikipedia page.
They also ask if John Farnham's people ever got in touch with me. Sadly, (or fortunately), they did not.
That night Channel 7 ran coverage as the odd spot in their bulletin. They said I was promoting the Melbourne Comedy Festival and didn't mention my show at all.
We're not gonna sit in silence
We're not gonna live with fear
Oh, whoa.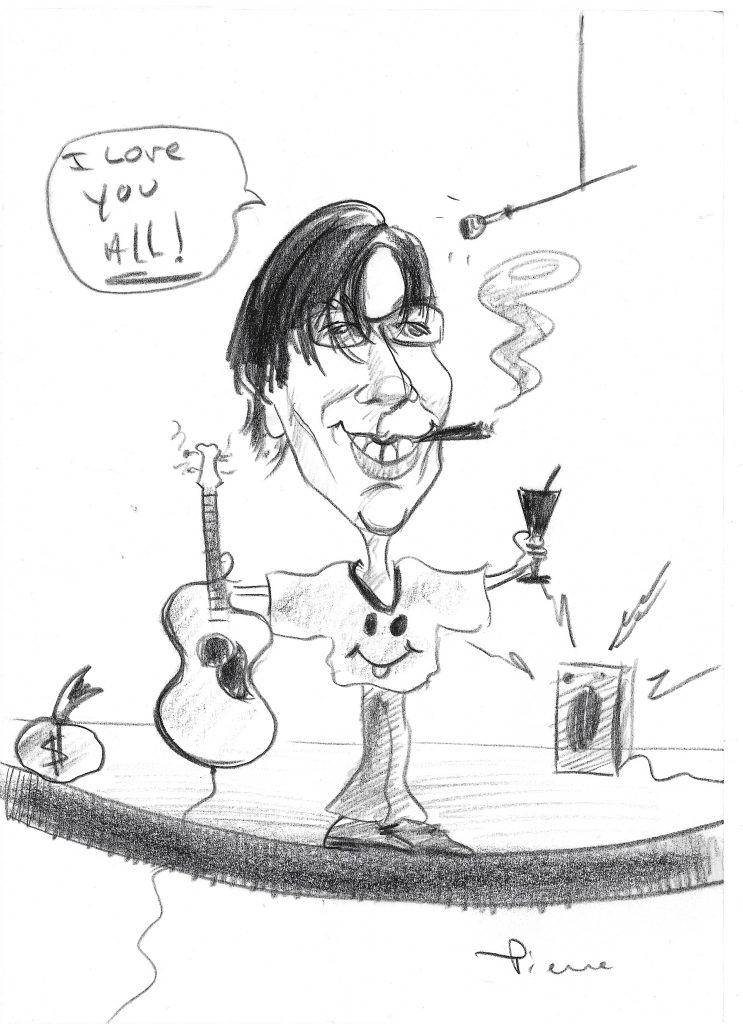 Photo at top and graphic design on PR at bottom by Tammy Winter
Cartoons by punters at Bardflys, Friend In Hand Hotel, Glebe, 2003