Short Story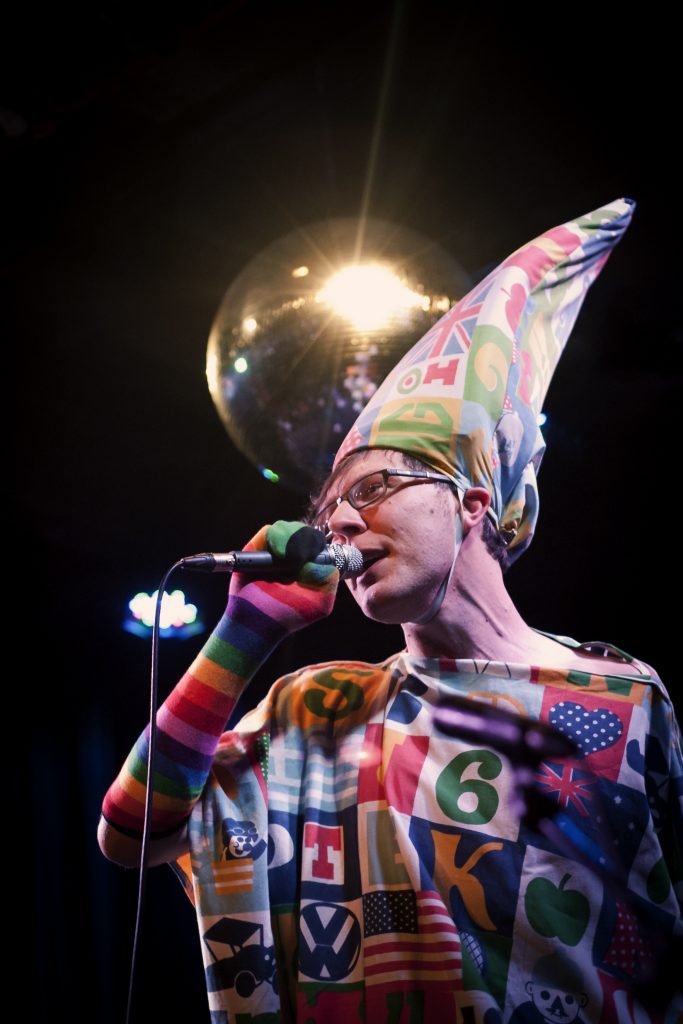 photo: Alex Schoelcher
After discovering irony from a mail-in voucher on the back of a That's Life magazine, The Bedroom Philosopher taught himself music on a Melody Pop and a guitar he built in grade 8 woodwork. His first song was about Home & Away ("Turned on the TV screen and there was Irene, wish I'd never seen her, goin' off at Selena") and his second song was about depression. He deconstructed House Of The Rising Sun and decided the F chord was his difficult friend.
After performing in the high school talent contest he quickly discovered that his serious songs were like a mini-funeral while his funny songs were a Bolivian street party. As an only child from a single-mother family harbouring a melancholic secret, 'Justin from Burnie' was a sensitive traveller in a cultural desert craving the cool elixir of validation (or thereabouts).
A grade ten talent contest saw his parody of Gangster's Paradise entitled 'Parklands Paradise' become a breakout hit. The judges disqualified him for slagging off teachers but he won the audience vote. His prize was a mars bar (which he is still waiting on) – a fitting entry into an improbable career in showbiz.
Beddy Phil fled Burnie to attend University in Canberra in Prince's 1999. After Burnie, Canberra was like New York with roundabouts. He was the only hipster in the village – adorned in second hand slacks and a Chemical Brothers t-shirt, surrounded by sports studies students from Bega blaring Shania Twain. He took full advantage of this freedom, writing for the university magazine, joining a theatre troupe and starting two bands.
The Harmonica Lewinski's were the group 'everyone had heard of but no-one had seen.' Justin continued to explore his serious side (as an emotionally intelligent nerd harbouring an omnibus of pain) through the same band members under the name 'Urban Turban.' This artistic yin yang reached fever pitch when he entered both in the campus band competition. Harmonica's prevailed with their songs about 'Home Brand Man' and an acoustic rendition of Rockafella Skank. As one judge wrote "playing seemed to be out of time but couldn't tell if this was some kind of musical protest."
It wasn't.
Second year uni was a mentally 'fruity' period for BP in which he became friends with a face he'd painted and assumed he was the inheritor of an overlord known as 'Fox.' He sported a mullet haircut for the play he was acting in (as a repressed gay porn star) while firing up his Catholicism and alienating his girlfriend, plunging him further into the depths of what the songwriting community generally recognise as the 'sweet spot.'
Power-tripped into oblivion by corrupt theatre presidents (not to mention his own Nan) – Justin caught a lens flare from god that combined with the fountain spray of Lake Burley Griffin to cast a vivid rainbow effigy across the horizon of his vision. This bright spark, combined with the previous nights drunken stargaze with male friends in which they discovered they weren't alone in the crippling struggle of bearing the weight of their own low self esteem, led Justin to write one of his most important songs 'Everybody's Got The Same Insecurities As You.'
This synched with a callout from ABCs Heywire competition for radio documentaries from regional areas. Justin Heazlewood pounced – delivering a parody of Richard Kingsmill's 'J-Files' about his mythical band Urban Turban. Much as the lake rainbow and paint face had prophesised, Justin won his division, earning him an all expenses paid trip to…Canberra (!) for the national forum. After hitching a shopping trolley he wowed participants with his dance moves, puns and pinstriped brown suits.
Sensing Triple J's Morning Show staff in the house, he wrote a song especially to perform at the closing night dinner. 'Radio Edit Of My Soul' was a blustering, blistering call to arms, as Justin set his stream of consciousness to three frantically strummed chords (B7 baby) to document everything from 3am bedsweats to his fury at John Howard not accepting refugees like billets for Hockey.
It went well.
Justin was invited to perform on Triple J's live broadcast from the AIS the next day. Not used to things going well, he took on the impression of a confident version of himself, a personality bait and switch compelling for the fact there was no way he was in possession of control of his nerves to pull off such hijinks. Accidentally-on-purpose he created a Frankenstein of a performance persona, an awkward nerd who assumed he was a rockstar. To complete the transformation – his costume for the early years was his Nan's 1970s ski suit. A sky blue buffer against the confrontation of sudden notoriety, even though it made him sweat bucketloads.
What followed was one of the more unusual career trajectories in Australian showbiz history (not mentioning the parody of Aqua's Dr Jones 'Dr Karl.') Sans reality show win or social media following – Justin scored a weekly songwriting segment on Triple J's morning show. Like an indie Benjamin Button, he'd landed his dream job…upfront!
After listening to the demo of 'Life Won't Wait Up For You' and the one about 'Insecurities' producer Vicki Kerrigan decided his lyrics sounded like "Bedroom Philosophy." Thus, Francis Leach announced him as 'Triple J's Bedroom Philosopher.' A bright, bumbling, (collapsing) star was born.
Freshly graduated from his Professional Writing degree, Justin wandered the pokie aisles of the Canberra Labor Club, cleaning ashtrays and carrying drinks to public servants. Our fresh faced geekaholic, having picked up the nicknames 'Harry Potter,' 'Austin Powers,' and 'Shaggy' was furiously jotting down song lyrics on the back of Keno tickets.
"My Nan Really Likes Radiohead"
"Kelly The Deli Girl!"
"Golden Gaytime…"
So appalled was the wide-eyed Taswegian at the gallons of money being slapped down the pokies – he made it his personal vendetta to be as creative and prolific and uplifting as possible – as he rode his craft horse into the paper mache battlefield of Aussie hard knocks in a post 9-11 world. I can't be scared forever, he whispered to his lemon lime and bitters. Someone needs to say what's really going on. I can write about anything. I can be the voice of my generation! (It was him or Nathan Cavaleri.)
And so The Bedroom Philosopher's early songs were conjured in the unlikely brainsuck of an ACT megaclub.
A Christian with blonde tips and a nasally Tasmanian accent. As one critic soon wrote "He can't sing, he can't play guitar – but who cares." He'd recently learned some more chords after hearing Radiohead's Kid A. (H minor is two whole hands on the fret board and someone from the audience strumming.) He'd even splashed out on a Maton guitar with a good pickup. Apparently it was a tax deduction. Aww, little 'Heazy' from Mr Turner's Montello music group was turning pro.
Over the course of six months he wrote thirty songs. He was paid $70 per track plus $30 as they were replayed by Gaby Brown on Saturday mornings. 'Happy Cow' was described as "Magical" by fill-in presenter Jess Keeley (who must have the cutest radio voice of all-time.)
"I'm feeling awkward, like a budgie, sitting on Sandra Sully's head as she reads the news about something, quite magical, perhaps an earthquake and I don't know where to look."
The Bedroom Philosopher had managed to bust his demons like ghosts and parade them in front of a satellite city with the droll, unhinged veneer of Bill Murray crossed with Harold Ramis. Look what I made! He seemed to be saying. Now if I can get this guitar to stay in tune and remember all the words I might be able to perform in front of girls, boofheads and critics without making a complete dick of myself.
It was too late for that.
TO BE CONTINUED
"If Bob Dylan had spent his time growing up in Berwick he might have more in common with the Bedroom Philosopher…one of the few artists making a genuine attempt to explore the oddness of our age." Helen Razor, The Age.
"Both live musician and half stand-up comedian, he appears to be as equally articulate and adept in handling both extremes as he appears to be utterly extra-terrestrial to it." Spoz's Rant.
"He is so hip, he's absolutely not hip at all." Amanda Palmer.
RELEASES
Living On The Edge…Of My Bed (2022 rerelease)
Funemployed LP (2015)
The Bedroom Philosopher Diaries – Book (2012)
A Very Beddy Christmas EP (2011)
Songs From The 86 Tram (2010)
Brown & Orange (2009)
Folkstar / I'm So Post Modern Maxi-Single (2006)
In Bed With My Doona (2005)
Living On The Edge…Of My Bed (2003)
FESTIVAL SHOWS
Cat Show (2017)
High School Assembly (2012)
Wit-Bix (2011)
Songs From The 86 Tram (2009 – 2010)
The Renegades Of Folk are The Renegades Of Folk w/ Josh Earl (2006)
Pyjamarama (2005)
In Bed With My Doona (2004)
Living On The Edge…Of My Bed (2003 / 2006)
"A daggy, sexy and acerbic hurricane of whimsy." – Sydney Morning Herald
"It's a miracle that this odd juxtaposition of delicate songs and such over-the-top stage antics works at all, given that it demands the B.P. be both modest and a shameless show-off simultaneously. But that it's such a delightful piece of whimsy is entirely down to his irresistible self-mocking charm. Wonderfully touching, quirkily individual and always unexpected. If you liked Flight of the Conchords then you'll love this." Chortle
"I'm impressed that this guy's still around and relevant. I met him at a show a few years ago and we traded CDs, nice guy, sort of a genius." Art Rush, on Facebook.