The Bedroom Philosopher Interview (2020)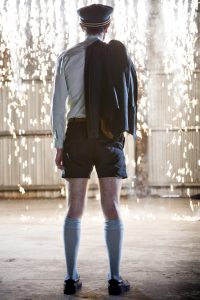 BUNYIP.com readers might remember The Bedroom Philosopher from his JJJ favourites I'm So Post Mortem and Northcote (So Hung-Over). Declyn Mash caught up with the intriguing or reclusive comedian about his new web series PUP!
What are you hoping to achieve with this series?
What are you hoping to achieve with this interview?
I asked you first.
Okay.
Why make this series now?
I felt it was important that non-humans have a voice.
Are these puppets a part of yourself?
I give the characters credit for being the architects of their own narrative. You could say they have a hand in it. [Makes finger-quotes on 'hand.']
It's been ten years since your Northcote triumph.
My friend drives a Northcote triumph. She knitted it out of rescued greyhound wool and balloons. It runs on sauerkraut.
Are you still proud of that song.
You suggest I was ever proud of it.
Aren't you?
As Nan said when I asked her what she thought of the video 'It's fine.' [Appears sullen and withdrawn. I press him on Nan but he declines to stop talking].
How do you think the song has aged?
Dude, the song was dated before it was even released. Connex was taken over by Metro trains four days before I released the album. I'm fine with that now. I consider myself a national archive for pop culture references. I'm a 'wayback machine' with glasses. Whatever you make gets a big boost in 20 years when the nostalgia fever hits. In 50 years my silly head talking on an iphone 3 will be used as a promo for 'what were the 2010s about' and that is basically what my teenage self always dreamed an intensive fifteen year career as a professional musician and comedian would culminate in. You think I'm being flippant but anyone who's looked at the statistics on how much new content is generated on the internet daily will attest – being remembered is no mean feat.
Like 'Chocolate Rain' [The viral video from 2010 by Tay Zonday]
I have no idea what you're talking about.
What would you like to be remembered for?
I brought joy to Tasmanians who often resented me for succeeding and having ambition. Also to all the girls who have beaten me in thumb wars, they were kind of cheating because our hands weren't level and they did that thing where they raise their elbow up like a chicken wing and it tips the whole playing field and catches me off guard and gave them an unfair advantage.
Your tense got a bit confused there.
I am confused and tense.
Any final thoughts?
I have a web series called PUP! which airs Tuesdays at 2:22.
Oh, we're going to include that in the bi-line already – do you have anything else?
I'm selling an LG front loader washing machine. Do you have anything else?
Um….no….I had something here about a world record attempt.
Are you serious about journalism?
No, it's sort of a side-hustle because I want to get into life coaching as a second language.
YOU CAN VOTE FOR 'NORTHCOTE' IN JJJS HOTTEST 100 of the decade. Voting is now open and closes on March 9. THE NEW WEB SERIES "PUP!" AIRS ON THE FOLLOWING PLATFORMS AT TUESDAYS ON 2:22