LapTopping – 81 – "Old Fi Lo School"
———————————————————————–
———————————————————————–
LapTopping – The Bit Long, Official E-zine of The Bedroom Philosopher
———————————————————————–
———————————————————————–
**VOTE FOR NORTHCOTE IN HOTTEST 100 BEFORE SUNDAY**
**NEW SHOW WIT-BIX IN ADELAIDE FRINGE / MELBOURNE COMEDY FESTIVALS**
ISSUE 81
Friday January 14, 2011
———————————————————————–
LT BIRTHDAYS
Happy Birthday Jason Bateman 42 today!
Happy Birthday LL Cool J 43 today!
———————————————————————–
VOTE FOR NORTHCOTE IN THE HOTTEST 100
Click HERE.
Tip: Not voting for anyone else is like voting twice.
———————————————————————–
ADELAIDE STREET TEAM
Would you like to hand out some flyers in exchange for tickets? Email anthea at nibblesmusic dot com with your details.
———————————————————————–
LYRIC POLICE
Bringing song writing laziness to justice.
From Eadie Nielson,
Silverchair – Take the World Upon Your Shoulders.
"Violent. Big and violent. Like a thing that's big, big and violent."
THANKYOU EADIE. GET SLEUTHING AND REPORT YOUR LYRICAL EVIDENCE NOW!
laptopping at bedroomphilosopher dot com
———————————————————————–
GET A WRIGGLE ON GOOGLET!
Phrases people have typed into Google to land on my website:
"double denim in latin America"
"i m so alternative the bedroom philosopher"
"triple jjj sitar double bass jazz drums"
"bernard fanning smokes joints"
"madori wading sex"
"girls remove shirts for song writing comedians"
"jatz biscuit cake"
"mick jagger wig"
"restraining order Tasmania"
"bedroom philosopher riding around on the aces"
"canberra rub josh"
"pathetic vegan sausage"
"song lyrics – couldn t reach my wallet so they cat the pants off me"
"guitar chords with comedical effects"
"can galah eat capsicum nsw"
"did anyone else laugh when maude flanders died?"
———————————————————————–
TIME IS CHEESE AND MOUSE IS HUNGRY!
———————————————————————–
NEWS
•     I'll be performing a new show 'Wit-Bix' in Adelaide Whinge and Melbourne Irrational Comedy Festivals respectively. Big rooms. No more sweating. Tickets are on sale here ADELAIDE / MELBOURNE.
•     Amanda Palmer is a fan of 'Northcote,' and has invited me to rap over her 'Map of Tasmania' track at an Adelaide Fringe show March 2.
•     'Northcote' has finished #42 in Rage's Top 50 Videos of the year, and #7 on Mess and Noise's top tracks of 2010. They said: "Misconstrued as a "joke song" upon its release, The Bedroom Philosopher's 'Northcote (So Hungover)' will one day be regarded as a landmark release in rock's evolution, just like 'Interstellar Overdrive' by Pink Floyd or The Velvets' 'Sister Ray'. Until then, it's OK to laugh at the hipster jokes safe in the knowledge they have nothing to do with you or your collection of Coogi jumpers and Casio Data Banks." The video has taken out Best Music Video at the '15 Minutes Of Fame' independent film festival in Florida.
•     Hitz Rodriguez, the world's best looking Kiwi percussionist has left the Awkwardstra. He has set sail for greener pastures in a Byron Bay love nest. We wish him all the best, unless it doesn't work out in which case he can pop back to Melbourne. I have lost a friend, a percussionist and a yoga instructor. Look out for new bloke Skins McGillicutty.
•     For Christmas Mum got me a 'Classic Paintings' calendar and two little pig erasers, one fluro pink, one fluro green. When I mentioned them on the phone she said "Pooglet!"
•     The Northcote Social Club residencies were a hoot. We got the best review ever in Inpress: "If you'd only heard the song Northcote (So Hungover), it'd be easy to dismiss The Bedroom Philosopher as a gimmick but his live show proves he's much more substantial and clever than that. He is, simply, a comedy machine. His ability to embody characters is out of control they actually seem to be emerging from within him. Seeing him do Irish Girl and imitate his Nan for In My Day is something else. He is so quick that you often don't get it until later when you replay it in your head. It's like there's a whole history of comedy here on stage embodied in the one man. And he never falters, at one point calling out to the crowd for his next song. Someone yells out Golden Gaytime and less than a second later he is straight into his anti-ode to this bullying-inducing ice-cream. The man is insane…" Kate Kingsmill
•     If you're in Adelaide do check out the wonderful puppet show 'Fin' in Adelaide Fringe. It's like Tom Waits meets Sesame Street. Click HERE for details.
———————————————————————–
A GIGGLE OF GIGS
SYDNEY Feb 10 – Headlining 'Mic In Hand' – Friend In Hand Hotel.
MELBOURNE Feb 12 – Playing Flood Relief benefit gig at the Hi-Fi Bar, Melbourne. Details TBA.
ADELAIDE Feb 18 – Mar 1
Wit-Bix. Adelaide Fringe Festival. Tuxedo Cat – Electra House 131 King William St
9:00pm. (No Wednesdays)
Bookings HERE.
BRISBANE Mar 6 – Headlining 'Livewired' @ Brisbane Powerhouse. 6pm. $0.
MELBOURNE Mar 31 – April 26
Wit-Bix. Melbourne Comedy Festival. Trades Hall – Cnr Lygon / Victoria St.
Times: 09:30pm, (8:30pm Sundays. No Mondays)
Bookings HERE.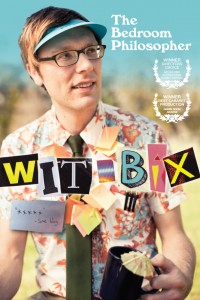 ———————————————————————–
STORYTIME
SUMMER FESTIVALS 2010/11 TOUR DIARY
It's New Years Day at 8am and I'm on a charter jet sitting across from Washington.
"I would murder for an apple" she says. I remember that I have an orange in my backpack. My girlfriend put it in there and now I'm going to give it to Washington. It feels like spiritual cheating but I'm gonna roll with it.
"Here's an orange" I say, reaching across from my seat. I like this as a first impression. Offering a fruit that is also a colour. It's succinct and stylish, like something the camera would linger on in a Wes Anderson film.
"Oh thanks," she says. "We must meet now."
We shake hands and I say "Justin" hoping she'll recognise who I am somehow.
"I'm friends with Ben n…." I trail off as she takes over.
"Oh yeah, you're friends with Ben Law, Anna Krien and the Brisbane mafia."
She offers me a segment of the orange. Nice.
Someone once told me she'd acknowledged 'Northcote' in an Age interview. I wasn't sure if she'd put two and two together. There was also three and three. A couple of months ago after seeing her film clip I discovered her alias Facebook profile and wrote a message saying I liked the camera angles. Actually I mainly liked her legs. I'm sure it came off as calculated and creepy anyway. She never wrote back.
"I'm that guy with a gimmick song who wrote that message you can't remember," I say, with my eyes.
That's the end of the conversation. I could have pushed it, but I wasn't in a good mood. I was surrounded by medium to high profile musicians, many of whom I couldn't recognise, on a charter plane that was delayed by two hours.
The captain appears, looking exactly as a captain should, with white moustache and bushy hair poking out from a blue authority hat. He's striding up and down the cabin with an uptight yet professional Malaysian hostess in tow. The problem is, there's too much music equipment on the plane, making the tail weigh too much. Their computers are telling them they can't take off. They are now bringing luggage onboard the plane, filling vacant seats with guitar cases.
"Can I ask you all to move from the back of the plane to the front please?"
We've been sitting in our seats for about an hour nibbling on pretzels that Washington and her people squeezed out of the hostess, with nothing to read but an in-flight magazine. I'd smashed 'The curious incident of the dog in the night-time.'
"There's a great boat on page 24" is the tip-off going around. It's the world's most expensive liner, its design based on a whale bone.
We move to the front of the plane and take new seats. The captain looks at us, concerned, and then makes us move again. We say we can't because the other seats are filled with guitars. He says he'll move the guitars and then reassign us and then trudges off, leaving his cabin crew to pick up the pieces. The hostess shoots us a worried smile.
"Thankyou for your patience" she says through a broken accent. It's entertaining watching someone remain official when it's clear they're itching for a good scream.
Dudes behind me are loving it. "And as the plane takes off if you could all jump up in the air." Ha ha ha.
"And if you could all lean to one side as it banks left."
I don't love being surrounded by funny people, nor do I love being surrounded by famous people. It makes my brain work too hard, like a nervous autism, and I become so self-conscious I almost forget how to walk. Band people at festivals all have the same look. The dark blue jeans, the band shirt, the hoodie, the moustache, the healthy cover of stubble, the right cap, the casual stance, the right laughter in the right pack with the right people. The girls have deer legs and an aggressive haircut and speak in hushed tones with cool sunglassed guys and text quietly and sip coffees and seem to know what they're doing. I stand by myself wearing shorts staring hard at my phone until I accidentally start talking to one of the sound guys.
The auto-perceived 'hierarchy of cool' of a music festival bill automatically triggers high school status anxiety. Feelings of inferiority that I thought had been incinerated by years of success and self-development reveal that they are only covered over, and can be stirred up like sediment, muddying my mood. This is multiplied by the fact I want to be a straight musician, and am forced to collide with the all-slouching all high-fiving hypotheticals of the direction my life could have taken.
This is my work. It is work.
We touch down and herd ourselves onto a waiting bus. It's hot outside. So far the mood has been jocular and patient (for musicians at 8am on New Years Day). But after fifteen minutes of sitting on a full bus on the Perth tarmac it's too much for some.
"C'mon, let's get a f#%kin move on."
"What's the f$#@#n hold up."
And this is just Angus & Julia Stone, sipping Ouzo from a Décor flask.
I am sitting up the front, so I can avoid people, with my clip on sunnies and patchy two week stubble. I'm half anxious at the fact I am alone and no-one is in charge, and half comforted that I am flanked by a ragtag artistic team. Washington slinks onto the bus. She had a motherly air, and has been flitting around speaking to various sorts. If this unruly, unwashed mob has a leader, it is her.
"Half the gear has gone into a trailer already. I should rescue our keyboards." She tells someone. I say nothing. She looks at me, reaches out her hand slowly and cups it against the side of my face. The next moment, she is gone.
***
I'm at Woodford and it's been raining for three days straight. Inside my tent, everything smells like damp durps. The ground outside is pure mudslush. Fortunately, Woodford has a rock solid sense of positivity about it. A dinosaur could be walking around biting people's heads off and there'd be a small coterie of Norfolk folk dancers happily urging it along with their leg bells. The dinosaur would then tell everyone to buy its dub album 'Reggaesaurus' from the merch tent.
My girl and I fill in the mornings by playing travel scrabble in the green room. This is a collective artists area where they have iphone charging docks and a water cooler we can fill our bottles from. (The folk rider). There's nothing more delightful than sitting down to scrabble in dry trackies, a cup of chamomile tea and a pair of mandolin and fiddle players jamming a jaunty tune only metres way. There's nothing worse than them still playing an hour later. We ask one of them whether 'RAZED' is a word. As in, 'razing a city.' He says he isn't sure. We consider asking five people and tabulating the survey results. I decide not to run with it. Damn, it is a word. I would have got heaps.
I'm billed under the spoken word section, but the tent I'm playing is pretty big. I ask for a fan on stage as my first gig has me sweltering, even in shorts. Everyone is surprised when the stage manager presents me with a shy but cute bespectacled girl wearing a Boosh tshirt. I hand her a cardboard sign and order her to start waving. My sets are often dictated by my moods. If I'm fired up, you'll get an energetic 'comedy' set. If I'm feeling a bit reflective, you'll get more a subtle 'thinking man's' batch. Today is the latter, with 'High On Life' seguing well into 'Middle Aged Mum.' (I'm high on life and Mum's the dealer….and now, let's hear from the Mother's perspective). 'Sudanese,' 'Irish Girl', 'The Happiest Boy,' 'New Media' and 'Northcote.' The thing about folk festival gigs is you end up performing to nationalities you wouldn't normally play to, including that exotic race of slow, special midget people called children. During 'New Media' a kid with a Frog backpack was going nuts and jumping about. During a pause I knelt down and tried to give him a high five. He obliged, grabbing onto my hand. I pulled away and he sprinted off to his Mum. I started squealing into my hands.
During the banter, the bored looking kids and Dad down the front made a ruckus. The girl popped a balloon she'd been fiddling with, (not literally. Bubble band anyone?), so I snapped at her.
"What's happening down there?" I made a comment challenging that playing with balloons was more interesting than my blistering poetica. The Dad said "play khe sahn" for the second time and I glowered.
"You Woodford audiences, you're so smug. Oh look at us, we can see anything we want, there's 15 stages…" Apparently the girl looked mortified as I derisively whipped into 'Northcote.'
At the end of the song, the girl and her Mum got up and presented me with a half-deflated yellow balloon animal. It was a giraffe rapidly downgrading to a deformed dog.
"Thanks" I said, "You've restored my faith in humanity". Sometimes, performing is like meeting yourself for the first time and not being that keen.
***
"I'm sorry but I don't know who you are." It's the security guy on the V.I.P. tent at Falls and he doesn't know who I am. I'm at Marion Bay and I've left my artist pass at home. This guy isn't having a bar of me. I consider trying a few lines including "Google my face, bitch!" But he doesn't have a laptop. I don't feel qualified to try "do you know who I am?" but consider "do you know who I think I am?" A safer bet is probably "do you know who I am, because I don't anymore." I have a feeling this still isn't going to get me into the gourmet bay marie's where I can collect the crap out of my meal ticket. All is not lost, my lady has her pass and goes inside to order outrageously tasty salmon and paella in biodegradable tubs. While I wait outside patiently sulking, a girl from my past comes up and leads with "Hi Phonze! Do you remember me?" Honestly, what happened to "Hey, haven't seen you in ages, how are you?" And if the person has forgotten who you are, just rolling with it. I've had conversations with people who's not only names I've forgotten but faces as well. I love having no idea who I'm talking to or what about. I pull out all sorts of open questions like "What projects are you working on?" and "Facebook. Discuss." It's conversation extreme sports.
"Mandy" I say, getting it wrong. She is crestfallen and we can't recover. Another dude appears, sunnies on head, eating chips casually.
"Ay love that tram song man" he says. I'm in a filthy mood, but I try not to take it out on anyone.
"Thanks man."
"I'm from Launnie and we went over to Melbourne and were in Jb-HiFi walking around going 'fffflick through indie.'"
"Yeah right, there's heaps of hipster dudes in there."
"Want a chip?"
"Yeah."
I take a saucy chip, as the sun sets over the scenic beach backdrop. A crinkly cut and a decent young bloke, my wonderful womanette about to bring out some food, douche security guard in sunnies who's doing his job. Life's okay.
****
Life's not okay. I'm at Perth airport and my iphone is broken after Woodford and my ride has just driven off without me. This couldn't be more disorganised and I have no idea where I am and no idea where I'm supposed to be and no manager and NO LOLLIES! WAAAAAAAAAAA. It's hot, and I just bought a coffee and a sushi which is probably a silly combination. Milk and seafood, together at last – all over my backseat you dreg. The red haired dude I'm chatting to (Jack, remember that!) is from the band Middle East so I follow him back to his entourage.
"Where's your ride?" Asks the long haired dude in sunnies. Wait, that's all of them.
"I don't know, I have no idea where I'm supposed to be," I say. Half not caring, half enjoying the dramatics of it, half embarrassed and all bad at maths.
"You can get a ride with us I reckon."
And there you have it. For the next 24 hours I hang out with the fine chaps from The Middle East. An actual adventure! I'm on fire, offering gum, eating Subway, borrowing phones, staying in Bunbury. They have a shop called "Thingz." When I performed there recently I made fun of "Thingz" and the locals didn't laugh, which is unforgivable. Most problems in life can be attributed to low self-esteem and losing your sense of humour. People wonder why comedians often lose theirs. Goodness knows, how often do musicians misplace their equipment? There's been many a sense of humour left in the back of a taxi or under a bed.
Not getting picked up is a blessing in disguise. I check in with Josh Earl, who is already at the festival site. He says camping is "hell" and he was woken up at six in the morning by "drum circle". This W.A. festival is treating us like second class citizens. Tom Gleeson has already pulled out because on the website they wrote 'Love him or hate him you would have laughed at least once'. He was headlining the comedy stage! People have funny ideas about comedians. Do they think we hang out in the artist section keeping the rest of the bands in hysterics? Do they think we're contently sitting in the sun jotting ideas in a notebook? Oh no. We are either hiding in the corner waiting to perform or walking around grizzling. There's a lot to grizzle about too. No rider, no hotels, and in Sam Simmons' case no tents. They didn't have a tent organised for a presenter on a major radio station who sponsors the festival. If you wonder why I've been selling myself as a musician when it suits me, this is why. The side effects of a boutique comedy scene in Australia are many. At Glastonbury comedians have their own stage. Here, we aren't even on the poster. I've had more JJJ play than half the acts on the bill.
***
"Can I ask you a question?"
I'm standing next to the Strongbow Boat, (an acutal boat, painted in Strongbow colours. A savvy marketing ploy to encourage Gen Y kids to keep buying it. Did you know it's the fastest selling drink in the CUB roster? Apparently Gen Y kids are too young to associate Strongbow with being the drink of middle aged women at Slapz nightclub.
"Sure." I say, not wanting to be asked a question.
"I just want to clear this up, my friends and I have been arguing about it and I thought it'd be best to hear it straight from you.'
Oh boy.
"Are you making fun of hipsters in an ironic way by being a musician who writes songs about them or are you actually more concerned with writing from your own perspective as you're more of a hipster yourself?"
Ash Grunwald isn't getting asked things like this. The toughest questions he faced backstage was "when are you touring next?" and "Can I touch your dreads?" (from me).
After ten minutes of defending myself in an articulate monotone, I could see that this guy was trying to be a fan, in the most complicated, backhanded Australian indie snob way possible. "Do you think I annoy people because I don't put myself in one category and they can't quite tell what I'm doing?" I ask, seriously. "Yeah I do." He says.
"Good" I reply. Sipping my cold bottle of fizzy moselle blended with dingo's lipstick with an after kick of boob sweat.
My eyes automatically land on '19 year old girl in impossibly tiny shorts #843' and I slam my hormones into reverse, taking several other emotions with them. The distant sounds of Paul Kelly blend with the over simplified three chord rock across from me creating the equivalent of trying to read Lolita while listening to an audio book of Zoo magazine. God I hate festivals.
***
I'm at the Virgin Blue gate with Public Enemy. Flava Flav has his clock on. The band are huddled around Boost trying to decide which drink they want.
"I want something with Mango" says Chuck D in the most serious voice you can imagine. Our entirely separate life paths, emanating from the cultural poles of New York and Burnie, cross briefly as I walk up the aisle to take my seat. Chuck D is coming the other way. The only explanation for this is he hasn't heeded the 'rows 13 and beyond it's time to split' sign. Chuck D doesn't take orders from anyone. The guy'll get on the plane by crawling up the escape slide if he feels like it. Adorned head to toe in his own merchandise, he eyes me off. I stop and crab walk myself into a seat. There's only one thing to say when you're face to face with an American icon you've followed very lightly over the years. Nothing.
On stage, Public Enemy are much funnier than anything I've come up with.
"TASMANIAAAA" begins a voice, said in a low, ominous voice.
"Are you ready for public ENEMEEEEE"
Cheer.
"Then make some god-damn F$%ing NOISE."
Louder cheer.
And so forth. This was all well and good until thirty minutes later a track is introduced with.
"C'MONNN Are you here for public ENEMEEEEE???"
Less cheer. I think we've established that Public Enemy are performing and we are all conscious.
The set of thin 'n nasty early 90's beats are peppered with violent self-promotion. "Public Enemy Number One" mashes with frequent plugs for Chuck D's twitter and at one stage I think I spy Professor X waving around his own can of street fragrance. Nothing could stop the Flava train who was reminding me of Tracey Jordan.
"On behalf of myself Flava Flav…" (Mental note – start referring to self in third person. The Bedroom Philosopher wants a banana. The Bedroom Philosopher doesn't feel like washing up) Chuck D, Professor Griff, Terminator X we want to thank you Tasmania for supporting us over the years, without you there would be no Public Enemy." If the two blokes next to me with singlets, beer guts and kitchen wall clocks hanging round their necks were anything to go by, Flave was right.
"And second of all, I want to thank you for supporting my second job, television. You've helped make Flava Flav the number one reality TV star in the past decade."
Less cheer.
Apparently Public Enemy have said in press releases they don't endorse 'Flavor of love,' a show where he searches for a wife and has a wedding in a big church full of alter boiiiiiiiiiiiiii's.
It's too good.
***
Meanwhile, back at Woodford, I'm watching a surly UK clown balance a world globe on his head while standing one legged on a tightrope as a metaphor for the amount spent on arms globally, and the 300, 000 killed annually by small arms fire. It's dense. The juggling of clowning and politics is the most impressive part of the act. We're trying to appreciate his cause, but it's heavy handed politics delivered to an un-clown-savvy bunch with an underlying tone of bitterness and lack of regard for the audience. There's a volunteer with a big gut on stage dinging a bell every minute (to represent casualties) and another massive dude holding a bubble blowing gun (to represent…bubbles). It's sweaty and it's tired and it's uncomfortable. The clown is MCing before me later in the evening, and pulls out a trick involving some frozen peas in a jar. He puts the jar in a billiards triangle, ties some rope around it and starts slinging it round his head until the peas mash together and the glass fills with water.
"World peas, we all want it." He says, laughing savagely into the mic and outstaying his welcome. Peas/peace gag – it's all pretty harmless, until the jar flies off into the audience.
"That hasn't happened in ten years" he says wearily, wandering into the crowd to retrieve the pieces. I find him backstage after.
"Hey, I really liked your set before." I am being genuine, I appreciated the combination of depressing statistics and clown tricks, even if it didn't really work. He says nothing. His dark, beady eyes shine through gaudy white makeup. He smiles at me, precisely, in the most chilling manner. It is almost unreadable through the thick makeup, an at first it seems genuine and friendly, but at the heart of the smile, too angular and practiced, and those screaming eyes, is a tremendous darkness. A look that says 'Go. All is broken. My shadow approaches.'
***
It's 12am and I've been lying paralysed on a damp camp bed for three hours, not sleeping. The bed is on a lean, so that the bedding is all bunched up and soggy near my feet. My girl snoozes away on the camp bed next to me. My head is a fetid porridge of thoughts and the sticky nebulous of noise pollution coming from two separate stages. Music has dissolved in the rain, reduced to clumps of snare and globs of bass. Mushy vocals soar and splatter into the trees, dripping down like echo confetti. This is audio torture. I am being held captive in my own situation, out of obligation. I have to get up at 4am to catch a 7am flight to make a 12pm car ride to a 3pm Falls performance. As the triple decker mouldy ambience sandwich squelches through my ears a fourth needle of nonsense is added. A gaggle of teens yell the national anthem ironically. I snap. I am a seething whirlwind of arms and legs and glasses, trying to find my clothes and put them on in the dark along with my wallet and keys. Yes, tent keys, by that I mean my Blundstones, which I'm going to use to kick the thing in when I come back sozzled on chai whiskey and liquorice cigs. I've been in odd situations, but there's nothing like trying to clomp off while remaining careful not to slip on the liquid mud track, assessing the risk of one's heart combusting with rage should a soggy bottom be added to the cocktail of calamity.
I pound through the labyrinth of tent ropes, vans, umbrellas and torches to the glorious amphitheatre stage where You Am I are playing. Even though they've been responsible for the swirling sound menagerie plaguing my brain for the last couple of hours, I am grateful it's them. There is something comforting about their presence, like an old friend. In this era of marketing conscious, pro-tool polished indie acts, You Am I are still a raw drop of hot blood in the Australian rock melting pot. Tim is onstage wearing a watermelon red velvet jacket, white singlet and black jeans. Note to self: Dress like Tim Rogers. Fashion appreciation is my highest badge of honour, and Tim makes a very short list, along with Jarvis Cocker. Two men who resemble cool teachers and dress like timelessly stylish vagabonds.
I'm worried about Tim's voice. It sounds a little thin, and I hope he hasn't blown it out. He calls the audience beautiful f#$ers and advises the guys not to kiss the girls until they say yes five times. The last song is 'Starting over' which I've never heard, but am guessing it's new. Spending time at music festivals reminds me how hard it is to write a good song. I'm a fiercely discerning critic, and my displeasure with most new music revolves around the same beef. Not enough hooks! Listen to Radiohead, The Beatles, Joni Mitchell, Ariel Pink's new album. Daft Punk. Yeah? Listen to You Am I's 'Damage' and then listen to electro whimsy / mopey indie rock stuff. Difference? Those songs go on for five minutes and the chorus hardly makes any impact, the lyrics are hard to decipher and they seem to be using the same four chords as the song before. Hey music, GET INTERESTING! You are entertainment and we want to be entertained. No wonder alcohol is your main serving suggestion.
The last song goes for ten minutes and ends with Tim screaming 'just start over again'. It's epic. It's one of those 'let's play a song for ten minutes that at first you think goes for too long and then you tune out and forget it's even playing and then you tune back in and then it peaks and you realise that it's actually really dramatic and moving and awesome.' I wonder if it's about You Am I starting over again after their Falls Festival meltdown, which I witnessed in 2006. Tim prefaced the song with "You might be muddy and hot and saturated, but you've just got to ring out your Kings of Leon t-shirts and f$%kin' get back out there." We both have Kings of Leon references. I am cheered. I trudge off to a bar to sit by myself and scowl and drink one Kilkenny beer.
"That'll be seven dollars" says the girl.
I give her the money.
"Oh I can't handle money, you'll have to buy a drink token first."
"Where do I get them?" I ask.
"Over there." She says, pointing to the girl next to her.
I walk over to the girl.
"Can I have one seven dollar token."
"That'll be seven dollars"
I give her seven dollars, and am handed a token. I step over to the first girl and give her the token. She gives me the drink. I sit down at a table. Soon, a young girl comes up.
"Excuse me, my cousin wants to know if you're The Bedroom Philosopher."
"No, I get that a lot."
"Oh."
"Who is he?" This is a trick I sometimes use to conduct real-time, anonymous market research on how I'm faring with the kids.
"I'm not sure."
"Is he any good?"
"Nah."
"Right."
Did she really just say that?
"What kind of stuff does he play?"
"Oh, I'm not sure. I haven't heard him actually."
Huh? I'm very tired.
This interview is over.
***
It's the final day of my week long campaign and I'm snorkelling. I've managed to gad off with a pal who lives in nearby Gracetown. I'm face down, submerged in beautiful cool waters, breathing underwater and casually trawling my gaze over blurry seaweed. A swim in the ocean is the reset button for the soul. After that it's the Margaret River ice creamery, chocolate factory, and a game of 'Hey Cow!' The game is played by yelling 'Hey Cow!' out the window and seeing how many cows turn to look at you. You get a point for each cow. I get four.
Back at the festival the comedians are bundled into a van and taken to the airport for an 11pm Qantas red eye flight back home. I'm much more relaxed after my swim and enjoy being part of a joke fiesta. I accidentally start a Flava Flav game.
"What does Flava Flav have in his coffee? Soyyyyyyyyy!"
"What's Flava Flav's favourite ice cream? Boyyyyyyysenberry!"
"What's Flava Flav's favourite town? Woyyyyyy Woyyyyyyyy!" And so on. You must feel for the Marina & The Diamonds sound guy who's in the van with us for three hours. We are a panel show he can't turn off.
At the airport Sam Simmons gets a tip off that the Virgin terminal has better food. This means Red Rooster. There's nothing more glamorous than four men picking at chicken while a cleaner vacuums behind them.
"I call this putting things in the bin awkwardly" says Sam quietly, wandering off. Just as he reaches the bins he trips dramatically and bashes himself into the side of the bin. The surly blokes next to the bin stare at him. We are in fits. He returns with a Lime Big M.
"The taste of my childhood. Have the rest I only wanted a sip." The bright green box sits exotically in the middle of our table. It glows magically against the drab greys and off-white's of the airport. (Whimsical Wes Anderson scene number two.) I take a sip. It tastes like spearmint choc-wedges, mown grass, trampolines, football on the radio, sunshine and comfort.
***
I'm killing my Marion Bay falls gig. The audience are loving it. Someone even yells out "we love you Beddy Phil" at the start. (My girl later reveals it was her).
Ah, what a noble and harebrained art this is. This conduction of mirth. Powered by the scorching and swollen gland of stress, hope and expectation, quietly jammed somewhere between the heart and lungs, oozing a bright, thick serum that spikes the bloodstream, drawing past memories and present spirit together like a rampant magnet – binding intellect, hurt and frivolity to form the tantalising, ephemeral chemical of wit.
I begin the two note riff to Northcote. Some of the crowd cheer.
"How many indie kids does it take to change a lightbulb? One, but I liked the old lightbulb better."
Healthy laughter.
"Keeping lightbulb jokes relevant since 1980," I adlib, before launching into the familiar "Hello, oh hey Joel" that I'm not as sick of playing as I was with 'I'm so post modern". The rest of the crowd realise what's on the white boy jukebox and start clapping. I can hear a girl up the front (not mine) speaking along to the lyrics, which almost puts me off. "That girl speaking along is making my schizophrenia flare up" I add, which acts as a callback to the "retail schizophrenia" line in 'Musical Clearance Sale.' Tiny planets align. I get to the chorus and a thousand odd kids sing along. "Ffffffflick through indie." This is the first time any crowd has sung along with my chorus before. This is a good way to spend the last day of 2010. My happiness is a comet that shines so brightly, the light creeps through the horizons of my mind, touching the nearby days of my past and future, dissolving bleary pictures into an oily canvas that paints streaks of yellow and white along my synaesthesic highway. My hope compass.
It's almost worth it.
THE END
———————————————————————–
LAYTOPING IS MISPELLED, AND FREE! WHAT A GREAT GIFT IDEA, AND IT'LL CUT YOUR ENERGY BILLS IN HALF! SEND IT TO A FRIEND!
****************************************************************************
NOTICE AND DISCLAIMER
This twee-mail, including all detachments, is existential. If you are not the intended recissient, any abuse, or so you think you can copying of this twee-mail is authorised. If you are not the intended recissient of this twee-mail, please immediately notify your Mum and cry into a blender. Pour tears over freshly printed email and throw into nearest ultra toilet.
Any cursenal vomments contained within this twee-mail are those of the sender and do not nececelery reprezent the views of Captain Vegetable, Jesus Chris or his Mum.
Laptopping Ink has attempted to make this twee-mail and any attachments free from Miley Cyruses but cannot provide an assurance that this twee-mail or any detachments are free of M.C's and accepts all liability. Hey you in the gypsy band, stop cracking onto my girlfriend. You're dressed as an old sea captain and live in a sharehouse in Brunswick.
****************************************************************************