LapTopping – 79 – "Mother Mirth"
———————————————————————–
———————————————————————–
LapTopping – The Bit Long, Official E-zine of The Bedroom Philosopher
———————————————————————–
———————————————————————–
ISSUE 79
Monday August 9, 2010
**National tour start this week. Click HERE to pre-book**
**Invite your Facebook friends HERE**
———————————————————————–
LT BIRTHDAYS
Happy Birthday Audrey Tatou 32 today!
Happy Birthday Hulk Hogan 57 Wednesday!
———————————————————————–
HOW TO HELP ME COMPLETELY
Q. How?
A. Pre-book your ticket to the National Tour gig.
Q. Why?
A. Well, if you are going to go anyway, this way is cheaper AND will make me and my squadron of assistants feel umpteen times better about the whole thing. We'll have more of a sense that people are coming.
Q. What if I don't because I'm a bit busy and bored and I don't like you quite that much?
A. Nothing will happen. However, you wouldn't want me to feel unnecessarily anxious in the lead-up to my special month now would you?
Q. Are you manipulating me in a very obvious fashion?
A. Yes.
S. (statement) I like it. I will pre-book AT ONCE-ISH!
RS (responsorial statement) Thanks, you specifically.
———————————————————————–
TEN GREAT WORD COMBOS
1. Sporadic cameo
2. Vampire campfire
3. Bollywood cauliflower
4. Colossal quibble
5. Mammoth anecdote
6. Operatic impediment
7. Pullet bullion
8. Hoodwinked vector panther
9. Texture ken
10. Glib decanter
———————————————————————–
NEW SEGMENT! LYRIC POLICE
Bringing song writing laziness to justice.
From Christina Cox, Melbourne
I'm a song lyric fetishist, and while I consider 'How to Disappear Completely' by Radiohead one of the most awesome songs I've ever heard, I can never get past:
"In a little while
I'll be gone
The moment's already passed
Yeah…it's gone."
THANKYOU CHRISTINA. GET SLEUTHING AND REPORT YOUR LYRICAL EVIDENCE NOW!
———————————————————————–
GET A WRIGGLE ON GOOGLET!
Phrases people have typed into Google to land on my website:
"Bring back bob hawke"
"the bedroom pholodifer"
"is the world fu**ed?
"make your own cruskits
"xxx hot short shorts in public"
"little shop of horrors crochet"
"the whole song of bedroom philosopher which you can copy and sing"
"is darryl braithwaite gay?"
"russian rap in my bed room"
"ween earplugs"
"bowie the chamomile"
"trineesha bedroom philosopher"
"fairy floss undress"
"tram 86 way too noisy"
"the bedroom phelosipha"
"i can t pursue my career due to antidepressants"
"matthew krok seat belt safety"
"tasmanias nashinol anthom"
———————————————————————–
TIME IS CHEESE AND MOUSE IS HUNGRY!
A glowing FasterLouder review for Songs From The 86 Tram.
A scintillating new video from Richard In Your Mind.
———————————————————————–
A GIGGLE OF GIGS
NATIONAL BAND TOUR WITH THE AWKWARDSTRA & SPECIAL GUESTS THE BOAT PEOPLE AND/OR PINKY BEECROFT (formerly Machine Gun Fellatio) & THE WHITE RUSSIANS (exc. SA/WA)
Book at the venues or from the pre-booking link HERE.
Aug 12 Adelaide – Jive bar (w/ Cookie Baker and Guillaume Soloacoustic)
Aug 13 Launceston – Hotel New York (w/ Pinky Beecroft & The White Russians and New Saxons)
Aug 14 Hobart – Brisbane Hotel (all ages 3pm start) (w/ Pinky Beecroft & The White Russians + Agent Fontaine)
Aug 14 Hobart – Brisbane Hotel (over 18's) (w/ Pinky Beecroft & The White Russians + New Saxons)
Aug 15 Burnie – Burnie Arts & Function Centre (all ages 2pm start) (w/ The Stoics)
Aug 18 Canberra – ANU Bar (w/ The Boat People + Margaret Helen King)
Aug 19 Wollongong – Harpe Hotel (w/ The Boat People + Pinky Beecroft & The White Russians)
Aug 20 Sydney – The Factory (all ages 7:30pm start) (w/ The Boat People + Pinky Beecroft & The White Russians)
Aug 21 Newcastle – Northern Star (w/ The Boat People + Pinky Beecroft & The White Russians)
Aug 22 Cronulla – The Brass Monkey (w/ The Boat People + Pinky Beecroft & The White Russians)
Aug 25 Scarborough – Indi Bar (w/ Gilroy & The Cold Shoulders + Stereo Flower)
Aug 26 Bunbury – Prince Of Wales (w/ Gilroy & The Cold Shoulders)
Aug 27 Northbridge – Rocket Room (w/ Gilroy & The Cold Shoulders + Stereo Flower)
Aug 28 Brisbane – The Troubadour (w/ The Boat People + Pinky Beecroft & The White Russians)
Aug 29 Brisbane – Old Museum (all ages 12:30pm start) (w/ The Boat People + Charlie Mayfair)
Aug 29 Byron Bay – Great Northern (w/ The Boat People + Steve Grady)
Sep 1 Ballarat – Karova Lounge (w/ The Boat People + Pinky Beecroft & The White Russians)
Sep 2 Geelong – National Hotel (w/ The Boat People + Pinky Beecroft & The White Russians)
Sep 3 Hepburn Springs – The Palais (w/ The Boat People + Pinky Beecroft & The White Russians)
Sep 4 Melbourne – Northcote Social Club (w/ The Boat People + Pinky Beecroft & The White Russians)
Sep 5 Melbourne – Spanish Club (all ages 12:30pm start) (w/ The Boat People + Stonefield – ex Iotah – Triple J Unearthed Winners)
Sep 5 Melbourne – Northcote Social Club (w/ The Boat People + Go-go Sapien)
———————————————————————–
STORYTIME
BEDDY PHIL'S NATIONAL TOUR FANZINE SPECTACULAR!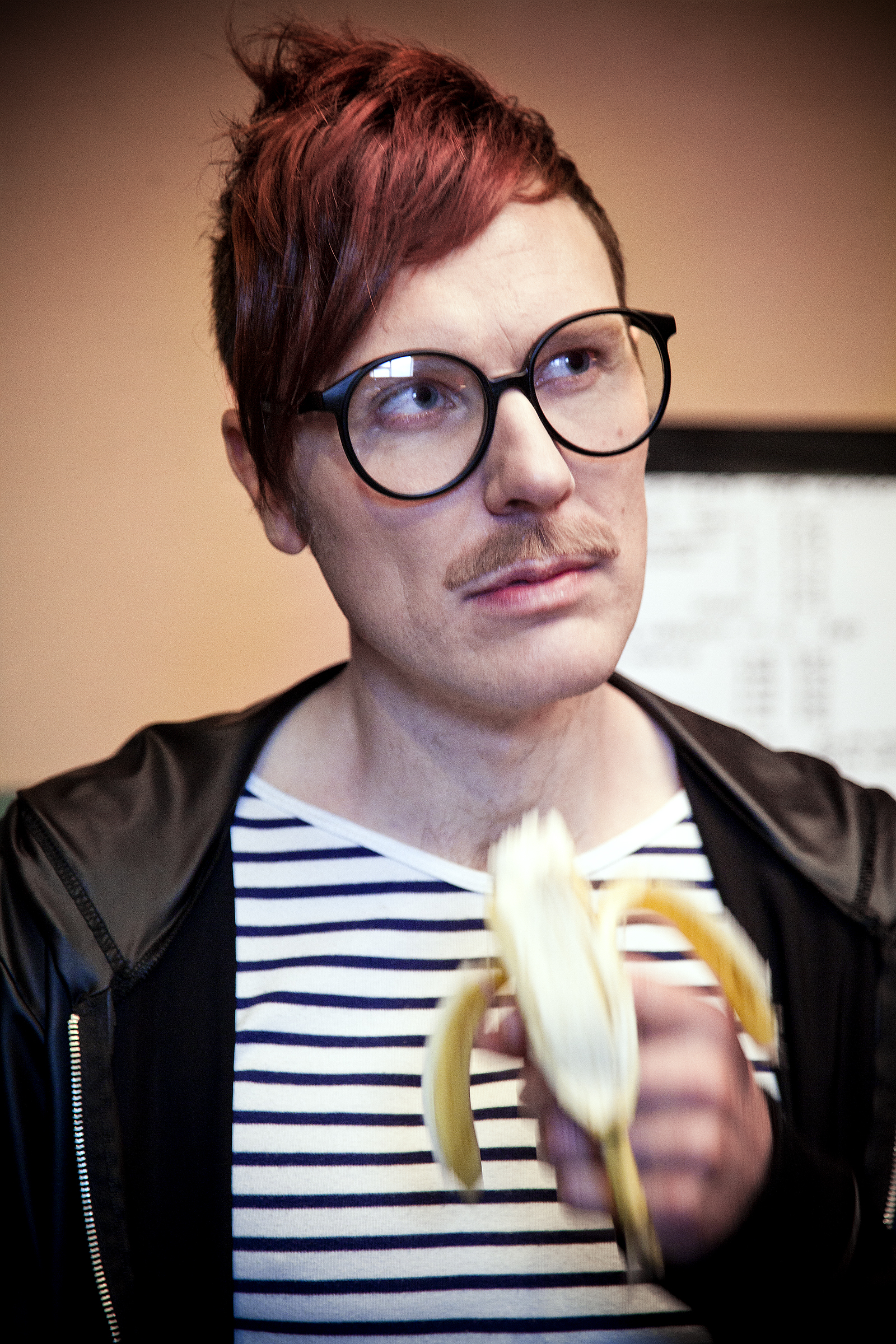 KNOW THY AWKWARDSTRA!
Letz get to know Australia's most sort-of known band of aggressively sheepish super troopers.
'NATURE BOY' HAZEL – Bass.
Favourite food: Lettuce chupa-chups.
Favourite book: Stuff Black People Don't Like
Did you know? Andy once had a job in Europe subtitling the plots for films. Instead of dialogue he had to write what was happening e.g. 'This guy is the girls father appearing to her as a ghost without pants.' Andy is also a naturopath. He is working on a jazz comedy instillation about the links between mineral deficiency and Tourette's syndrome called 'The Vitamin C-bomb.'
'MAD DOG' RABINOVICI – Drums.
Favourite quote: "No stars." – David Stratton.
Favourite Movie: Sex Toy Story 3
Fun Fact: Mad-Dog just returned from a solstice in India where he worked extensively with drum gurus who taught him how to keep a straight eight using only his buttocks. He contributes to a male feminist handbook edited by Guy's Sebastian and Pearce called 'Guy and Guy's Guide for Guys Against Guys.'
GORDO (formerly Suavey Shankar) – Electric guitar / Sitar.
Favourite TV Show: The Sopranos, Brand Power.
Favourite Past-times: Snow-baking, tram-jacking, couch-surfing (literally).
Profile: Joined the band in 2007 after TBP found him in a department store changerooms busking sitar versions of 'True Blue.' Known for his mini-disc collection, use of the phrase 'chocoblock' and tendency to go toily in his hot water bottle.
HITZ RODRIGUEZ – Percussion.
Favourite Drink: Vodka Ovaltines.
Favourite Sport: Wii Dog Fighting.
Snapshot: Very little is known about this mysterious New Zealand Columbian smug-lord. It's rumoured he can solve a rubik's cube using only his jazz hands and has been expelled from over ten driving schools. He is a half South American bogan yoga instructor who salutes downward facing double denim.
MENTAL PUZZLES
Q. The Bedroom Philosopher has a gig at 9pm. He must travel 10km to get there on a tram that goes 2km an hour. It's now 4pm and it will take an hour to get ready. A taxi will cost $2.50 per kilometre and get him there in triple the time but he only has $20. Which is the better option?
ANSWER AT BOTTOM OF LAPTOPPING
JOKES!
Q. How many pop culture references does it take to change a lightbulb?
A. Rosie Perez!
NEW WORDS!
Deppression – The fallout caused by the expectations of modern Johnny Depp films.
Malculator – A device to work out how much Stephen Malkmus was cashing in on the last Pavement tour.
Grudd – A parody of Grug books featuring the displaced ex-Prime Minister depicted as a recluse Burrawang tree.
Laptuplets – When everyone in the house has their laptops out.
ASK DR HELP
Q. Dear Dr Help, I've just started a new job but I'm worried that I might not be very good at it because I don't like it. Help.
A. Dear person, have you tried not doing the job? Perhaps you can adopt a dramatically evasive set of life directions where you reinvent yourself as an adult sitter. Adult sitting is a boutique growth industry where unsure people who don't have evening plans pay you to come and play Scrabble with them. You could try this and if it doesn't work out or exist then perhaps stick to data entry and a tightly prescribed diet of exercise, reading and racy massages with casual friends. Alternatively, you could try 'dada entry' where you text absurdist phrases to random phone numbers until someone pays you to go away.
HOROSCOPES
Sagittarius. The moon slept in so you're going to have a weird fight with someone close to you which might not be like a real fight but something's going on, best to bury it deep inside so you never have to go through the sharp yet brief discomfort of confronting them.
Gemini. You're a real piece of work, you know that? Oooh, look at me, I'm all confused. I want to do this thing but now I've changed my mind and I want to do that. Good luck holding down a relationship you weirdo.
Libra. A vague week for you where some plans may or may not come to fruition. Mars comes into line with the sun which means you'll get your period, if you are a boy you'll just get a slight headache. Totes unfair.
Cancer: A chance encounter with a new investment may lead to an opportunity with a past fling. Okay, you go into a newsagent to cash in a scratchie and you'll run into your ex who will tell you about a new performance night she's running. Zing.
The other ones: A series of small melodramas will facilitate the grandiose needs / losses saga of your superego that has been chasing its own tail since childhood culminating in an Escher's staircase of achievements and disappointments that maintains the cycle of a perpetually unfulfilled dream or 'potential happiness' on the horizon until you get into very late middle age and realise that no matter what you do you're always slightly frustrated and you truly embrace this and decide to tour the world with your partner in matching fluro tracksuits pointing loudly at ethnic children and taking phone calls in galleries.
QUOTE FOR THE DAY
"The key to being single is being 100% satisfied that your life is running at 50%."
Justin Heazlewood.
SEE YOU ON TOUR FANGBOTS!
THE END
———————————————————————–
LAYTOPING IS MISPELLED, AND FREE! WHAT A GREAT GIFT IDEA, AND IT'LL CUT YOUR ENERGY BILLS IN HALF! SEND IT TO A FRIEND!
****************************************************************************
NOTICE AND DISCLAIMER
The themes and analytical arrangements discussed in the text are not necessarily those of the author but a psychological reflection of the short term memory bank of mainstream and underground media coupled with the cut-up poetics of conversational snatches, subconscious pictorial images, mind's eye abstracts and a pinch of universe scolding original thought. It is the intention of the publication that the readership is free to interpret, dissect and absorb the information in any way they see fit. Notwithstanding, while the publisher is entirely in compliance with the connotations associated with the privileges of free speech and a democratic right to choose how one reacts to a third party's opinions, the publisher weakly urges that the reader is mindful of potentially unforseen external factors which may result in an overtly sardonic or cynical mind frame through which the text is attitudinally sullied. In the rich muddle of our rainbow supersoul, where the conscious outlook is refreshed as often as the eye is blinked, it can be difficult to view the world with anything resembling a consistent watermark of beauty, or at least inner solitude, to remind us of the cherished, gifted and uplifting nature of our pure selves. LapTopping urges all readers to practice spiritual ergonomics and ensure they arrange their physical and emotional selves in an appropriate position as to encourage the flow of good spirits between mind, heart and stomach and in turn avoid the joy-clogging aches and fear-spasms caused by incorrect positioning of the soul's self-forgiveness duct, which should be in regular contact with the fun-brain's attitude centre of creative playfulness.
****************************************************************************
PUZZLE ANSWER:
A. He stayed at home due to a panic attack.