Phonze! – Birthmark (1999)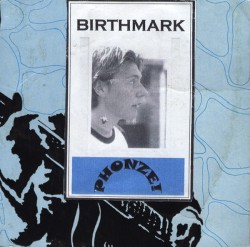 Digital rerelease with reimagined tracklist available from Bandcamp.
1. Community Scooter (Part 1)
2. Smells Like Hellyer Spirit
3. Vee-Dub
4. Dodge
5. Mo' Music
6. Gospel
7. Down By The Sea
8. Community Scooter (Part 2)
9. Come On
10. Disco Chicken
11. Environment
12. I Got Rhythm
13. Cliché
14. Pea Honds (Hey Everybody)
Written by Justin Heazlewood.
Recorded February-March 1999 in Marcus Wynwood's bedroom, Penguin, TAS.
Produced by Marcus Wynwood.
I Got Rhythm features Emma-Louise Cukier on vocals.
Marcus Wynwood plays lead guitar on Dodge and Disco Chicken.
Design: Justin Heazlewood. (Based on a record cover I cut up at Nan and Pop's).
Photo: Jade Hallam.
Album originally distributed to friends on cassette and a couple of CDs.