News (28/2/17)
I walked into my venue in Adelaide to find this. It's as if someone died ignoring a show.

Cat Show has added Sydney Comedy Fest to its feline-up. Tix on sale now for Giant Dwarf April 29.
Cat Show was nom-nominated for Best Comedy at Perth Fringe.
I found a cat in my chop: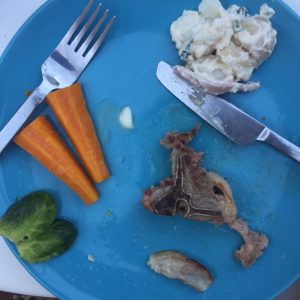 The nice ladies of Frankie have given Cat Show a write-up.
Check out the latest Cat Show trailer:
I witnessed an armed robbery. I was sitting in my local cafe eating a blueberry muffin with a clear view of a carload of men in black uniform with white neckerchiefs. (I thought TISM might be reforming). They went inside to rob cigarettes from a shop. (I still thought it could be TISM). A brave bloke from the cafe kicked the passenger door closed and the robber couldn't get it open because of the child lock. (It was a scene straight out of 'Idiot Box.') The shopkeeper came out wielding a chair. The robber swung at him with a mallet. (I still thought it might be a TISM gig). There were gasps inside the café. The scuffle ended and the car sped off. The woman behind me leaped up to take their rego. She repeated it strongly while holding her phone to her ear. I wasn't sure what to do. I had a surreal 'what if they came and attacked us?' contemplation similar to when I'm on a plane and ask 'what if it crashed?' I finished my muffin and the Cornershop interview from a 1999 copy of The Face. (Tjinder Singh slagging off Radiohead). It was 11:30am on New Years Eve. There's a news report of it with footage HERE. (ps I think TISM have reformed.)
I witnessed a double rainbow. I saw it by chance as I was taking out the recycling. (Unlike thunder and lightning, rainbows don't make any sound. Imagine if they did! Surely it would be some kind of twinkling?) The upper rainbow was complete. I couldn't remember a time when I'd seen an unabridged rainbow from beginning to end. (I wonder if rainbow behaviour differs by region?) The second arch was partially obscured on top. The glow was vibrant on a dynamic canvas of molten grey. I stared for a long while. The streaming beams of infinity raceway were fantastic. It was sprinkling lightly on my face. I didn't mind. I needed this. A family across the road came out and I felt part of something. The kids were commentating. I heard the young Dad mutter "…not as good as the one we saw…."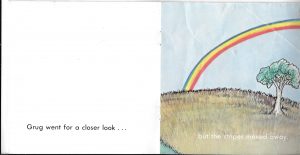 I witnessed a family watching the end of The Never Ending Story. I was on my regular night walk on a sultry January eve when I heard the unmistakable sound of Falkor the Luck Dragon bellowing with glee. (Note: I went to spell it 'Falcor.' Next time you are stuck for conversation, blurt out "So….Falkor from Neverending Story, do you spell it with a 'C' or a 'K'?) Roused by the iconic Giorgio Moroder soundtrack, I stood on the footpath for some time. I visualised the final sequence where Bastian and Falkor pursue three bullies into a skip. The film finished and I was eager to know what these modern day kids made of it. I couldn't make out their comments but was delighted when the parents started singing along with the theme song. I mean….really. When does this happen, ever? (Apart from the one time it does.) Taking into account the personal relevance of the film, nostalgic nature of the memoir I'm writing, epic power struggles within my deepest relationships – this was one of the better cosmic reinforcements from the multiverse.
Mum gave me a unicorn fridge magnet and a prism for Christmas.