Hippest 100 2012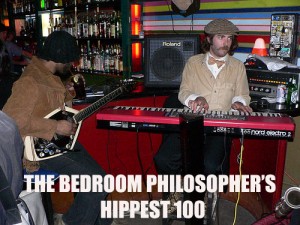 Thanks to all who participated in the Hippest 100 2012. Full list below.
Congrats to Giles Field (@GilesField), Mat Ward (@MatWard66) & Andy Hazel who all scored five entries apiece. What a result! The number one spot went to the only band that didn't actually enter. Ironic? Thanks for all the support and retweets, and especially to those who sent in bands. I'm sorry I couldn't fit everyone in. Take heart. Based on the results, I don't have to play outside Safeway…but…we have a year to write and record all of these songs. Surely?
I'll be launching my first book of tour diaries soon so stay tuned.
BP (aching back hidden dinner) x
1: Men Who Stare At Gotye – Fugg (from Ralph Malph c/o http://www.messandnoise.com/discussions/4413608)
2: Long Division – Love Recurring (feat. members of Pose Tattoo & Rage Against the Sewing Machine)
3: The Sixties Fixies – Left Second Hand (from @GilesField)
4: Soul Doubt – Sold Out (from @MatWard66)
5: Rage Against the Sewing Machine – There's Trackwork On My Heart (take the bus in my jeans)
6: Gadget Widget Smidgen – Flummoxed! (latest art-rock combo from Brooklyn, heavily influenced by Talking Heads and early period Kelvinator machine spin cycles. Send their parents to do interviews for them – from Andy Hazel)
7: Known Artist – Fauxhemian rhapsody (Metacritic's most popular outsiders – refuse to do interviews, play live or record)
8: Morning Wish Pants – A Rummy Chum Chum (The Rum Chum Chum Song) (from Lachlan)
9: The Two Soups – Wednesdays in the Key of Maude (from Jim)
10: Boreds of Kandahar – Herd away from the telegraph lines, there is very little grass there (from Dorothy Wanda Cliff)
11: Sex vs. Winter – You Never Said It Wasn't An Open Relationship (from @GilesField)
12: The Tafe Modern – Agog (One of Who Weekly's 'bands to skip' 2011)
13: Minimalism – The Amazingly Beautiful Girl You Met Last Night And Who You Had That Awesome Conversation With About Pasta And Reggae Doesn't Remember You Ever Existed (from @MatWard66)
14: Pose Tattoo – Rocket Flan
15: The Black Animals – Photoshop of Horrors (Keytar orchestra featuring kicked out members of YokoBono and Denim Chair)
16: The Wrinkly Splits – Retire those running shorts, uncle, they is too small (from Ledanksi)
17: The Dollarmites – Commonwealth People (Rupert Murdoch's house band. #1 in Pirate Bay's Ripped 50)
18: Vice-Captain Beefheart – Amstrad loading (Quadriplegic who mashes auto-tuned whalesong with 50's Welsh porn soundtracks)
19: Jodie Foster The People – Sunset Dreamz 4 U Life (from @TimShiel)
20: Texxtas – Rhododendron (Sydney's answer to Ratcat)
21: Donnie Downcast (jnr) – Nobody to play hand tennis wif (Grade 4 lunchtime blues) (from Ledanksi)
22: Zed Abrahams – Jaguar Jocular jugular (Miami producer, taken from mini-disc boxset The Mangina Monologues)
23: Children Overboard – FTW! (Electroacoustic indietronica 3CR regulars from Dennis station)
24: Boobook Vs Mopoke – Owly to bed (owly to rise)
25: Food Fighters – Cantaloupe (from Frank Louis)
26: Pen Pencil Pistol – Decisive Bollocks (Wynyard's answer to Bros, following an article in The Advocate asking everyone to vote for them – from Andy Hazel)
27: And You Will Know Us By The Trail Of Debt – Carry the one (French horn crew playing Tankerville residency Mondays at 3am)
28: Boy & Bogan – Bush Doof
29: Poozles: We Can Work It Out (crazy little thing called lunch) (Iceland's #2 desert rock / delta G-funk cartoon band)
30: Tweet That – @FBI I'm Going To Kill The President (@matward66)
31: Hungry Hungry Hipsters – Sorted for Z's and Biz (Williamsburg no-core accumulation)
32: Bukowski Goggles – Ironic Misogynistic Hermaphroditic Chick Flick (from @davecallantwit)
33: The Andy Warhols – Daytona beginner level (Tokyo's Dandy Warhols tribute)
34: iBand – Product Placement
35: Freddy And The Nietzsches – When You Gaze Long At Your Shoes, Your Shoes Also Gaze At You (from @MatWard66)
36: Jon Battler Roots Infusion – Aqua Profonda (Heritage listed soul-grunge unknowns)
37: Ernie Budget's Nouveau Palimpsest – Schroeder's other cat (First entry from artificial intelligence program developed at RMIT)
38: Greg Fleet Foxes – Media Watch Theme Remix
39: Can't Play / Can't Sing – We Never Get On Anyone's Top 100 (from @MatWard66)
40: Autumn or Tron – Text Message Essay (from @GilesField)
41: Rage Against the Sewing Machine – Too many leechers not enough seeders
42: Lydia Thrift – Dreaming is flossing for your brain (Noir-folk NEIS scheme darling from Thornbury Heights)
43: The Professional Student Union – Didn't Ask For A Lecture (from @GilesField)
44: ArseWhiskey – Genuine Crumpet (obscure Wisconsin blues rock band, produced by the legendary Gordo – from Andy Hazel)
45: What Would Bowie Do – Ratest hit (LA time-travellers release stems best-of for iBand app-stream)
46: Bangkok Cartoons – Baht Simpson (from Frank Louis)
47: Coast Busters – Start the Boats (I'm on one) (Dub & bass freaks from Warringah)
48: Olympia Du Cougar – Nazi synthesiser (Released on white cassette, available at The Vinyl Solution, Sydney)
49: Boreds of Kandahar – Tell that homing pigeon to hurry up (from Dorothy Wanda Cliff)
50: Shakira – Hips don't lie (from Zoey Coombs Marr)
51: Bear, Bat, Wolf & Lion Cub – Take the l out of llama and it's lama (from Piotr Fufi Malbaru)
52: Len Pancake – I can't stop falling (down the stairs of your lies) (Hobart's metalgaze troubadour)
53: Everybody Still Hates You Pauline Hanson – My Land Is Not Your Land (from Frank Louis)
54: Ansett – God Gave Chillwave To You (ninth single from Greece Megamix)
55: Personal Effects – Dot matrix (Switzerland's answer to Poozles)
56: Band, James Band – Did you mean? blues (Glam accapella concept ensemble from the East-West coast of Scotland)
57: (LED) Quadraphonic Explosion – Girls & Skateboards (from Hugh M)
58: Dhalsim – Ain't no Voldemort (just Dumbledore when he's drunk)
59: *** feat. !!! – No disc
60: Mass & Nose – Starved for retention (Prog-blog acid-posters from Bed-Sty)
61: Pose Tattoo – Country Women w/ Attitude (Hip-pop Fitroyalty)
62: Fill-in Teacher – You Know They Won't Mark It (from @GilesField)
63: Wonk – Roger My Federeh
64: Maximum Chips – You've got to X for your Y to Z (15 year old French trip-hop sensations from Townsville)
65: The Gustav Mahler Project – More Cowbell (from @PrestonTowers)
66: Modcast – Vince (First 11 on Bitchfork)
67: Phillip Morris Miner – Mysterious cities of coal (Perth's first lady of crunk)
68: Bludgeon Pigeon – Where's My Weiner Dog, Steve? (American frat boy band recently killed in a submarine toilet malfunction – from Andy Hazel)
69: Mr Tea – Rosehip (to be square) (London twee-tween consortium)
70: The Furphy Water Carts – Glockenspielarama (from @PrestonTowers)
71: Grug and the European Debt Crisis – Yahoo Can't Be Serious
72: Virginia Ham and the Pork Barrellers – Meat me halfway (Tropical death-core from Ashfield – from Breeny)
73: Pity Sex – Cusp (Winner of Israel's Grindcore Idol)
74: Alice riice – I'm sad (I made a salad)
75: Cosby, Stiller, Desh & Yon – Dog hates figs (Comedy-jazz supergroup, currently recording a triple album on King Island)
76: Johnny Deppression – Hock, loan & sucker (Canadian nu-wave Hall of Famer's debut single, released in three parts)
77: Other – Other (from Andy Hazel)
78: Sissy & the Exoskeletons – Twine perks
79: Sheath – Bum rush (Eurotrance sportsbar collective from Newcastle)
80: Free Lance – Dark fringe photo blues (Wellington 0-piece)
81: Rage Against the Sewing machine – Chicago Bulls On Parade (Melbourne post-Indie)
82: Anonymous Bananas of Freedom – Downtown Baghdad (It's the only song I can think of that has a mime solo – from Klarex/Brendan @klarex1)
83: Helvatican – Font pipe (Texan surf-glitch)
84: I Can't Believe It's Not Better – Flame retarded (Krautrock jug band from Penrith)
85: N.E.R.F. – In your face (Nan) (Acoustic K-pop duo from Adelaide)
86: Admiral Ackbar's Dishonourable Discharge – Hip-o-cracy (from Toffer)
87: Texxtas – Fad Square
88: Gaydar – Arantxa Sánchez (Hong Kongian rockabilly psychobilly family band)
89: Winona's Rider – Velocicopter (Fresh from their breakout appearance at South by South West Tasmania)
90: Harvey Normal – Who's yr dada? (From the collection of itunes previews 12 Hour Arty People)
91: The Canteen Robbery – Sandwiches, Foiled! (Pop-punk fresh from Dairybin Battle of the Bands – from Hannah Paige)
92: The Bathroom Philanthropist – Prog novelty is where I hide
93: Dogs of Frasier – L.I.B.C (Lactose Intolerant Baby Cow) (from Lachlan)
94: Sticker Kill – Glue gun (Milwaukeean thrash jazz 36-piece)
95: Grythwallyn Abvat – Emptis Byrrwsolasdfike! (Welsh electronic pop duo, 90 second blast of sped up polkas and rural farm machinery samples – from Andy Hazel)
96: The Lonesome Googlers – Digital Happiness (from Joyce Missy Conrad)
97: Schwarzeniggaz – Avon calling (Barksdale) (Caribbean math rock from Devonport)
98: Cheese Louise – Unfinished symphony (in me) (Celtic Operacore recluse from Las Vegas)
99: Belching Cupcakes – Bloated Beats (from Joyce Missy Conrad)
100: Text Perkins – BMX-Ray (Space Folk 1-piece from Canberra)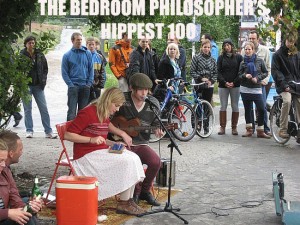 On Australia Day, I'll be counting down the Hippest 100 songs on Twitter. Bands so cool you haven't heard of them. No-one has.
Do you know a buzz band so fresh they only formed this morning? Get in on the action.
Email your band and hit song title to:
laptopping at bedroomphilosopher dot com
(Enter as many as you like.)
Or tweet to: @beddyphil #Hippest100
Or leave as a comment below.
Include your name and location. Please state if you wish to remain anonymous, or provide your rock star name. (Your Nan or Pop's name, your second pet's name and second street name.
ie Leonard Snowy Totterdell.)
Deadline: 12pm, January 25.
On Australia Day, follow @beddyphil #hippest100 to see if your act is hip enough for the list. They'll be competing with my bands, so they'll have to be sharp. I'm looking for the witty, the weird and the well-realised.
Examples:
WITTY: The Laneways – Sit On My Crate.
WEIRD: Sossy Inbred – Attitude & Longitude.
WELL-REALISED: Ten Colour Yen – Golden Frost.
Or it could be a twist on an existing band: Infrastructure in Bindi Bindi, Rodeohead.
Singer/songwriters welcome: Skip Breakfast, Lily & The Digits.
For inspiration,  you could visit this anagram generator:
http://wordsmith.org/anagram/
If your band breaks into the Top 10, they'll win a Bedroom Philosopher prize including CD's and new 'Ultimate Worrier' Tshirts.
If more than half the list is made up of your entries, I'll do a free gig outside Safeway.
Go forth and amplify.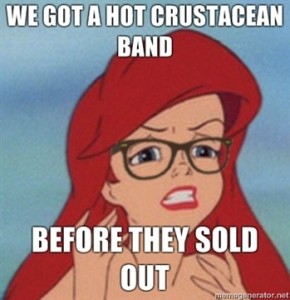 Check out new single Northcote (YouTube Comments).
New T-Shirts available at the BP STORE.