LapTopping – 84 – "Delicate Lesson in the Delicatessen"
———————————————————————–
LapTopping – The Bit Long, Official E-zine of The Bedroom Philosopher
———————————————————————–
**Head Sex & Bed Socks National Solo Tour AUG/SEP**
ISSUE 84
Tuesday July 19, 2011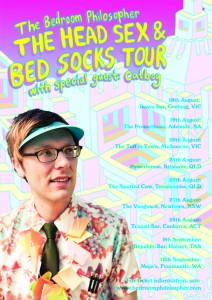 ———————————————————————–
LT BIRTHDAYS
Happy Birthday Shaun Micallef 49 yesterday!
Happy Birthday Andrew Stockdale (Wolfmother) 35 tomorrow!
Happy Birthday Marcia Hines 58 tomorrow!
———————————————————————–
MERCHKATEERS WANTED
If you'd like to help out selling merch in Geelong, Canberra, Brisbane, Hobart, Adelaide or Perth, why not contact:
anthea at nibblesmusic dot com
———————————————————————–
LYRIC POLICE
From Anthea Cohen, Melbourne.
The Fauves – Dogs Are The Best People
I've never been able to get past "there's a church, there's a steeple / dogs are the best people."
Just because it rhymes doesn't make it ok.
DO YOU KNOW A BAD LYRIC THAT NEEDS POLICING? SEND IT TO: laptopping at bedroomphilosopher dot com
———————————————————————–
MADE UP WORDS AND THEIR MEANINGS
From Peter Taylor, Marrickville.
FEDERTERRANEAN
Federation houses that have been given a Grecian make-over.
DO YOU HAVE A MADE UP WORD AND MEANING? SEND IT TO: laptopping at bedroomphilosopher dot com
———————————————————————–
GET A WRIGGLE ON GOOGLET!
Phrases people have typed into Google to land on my website:
"Short shorts for men" (moved nine places up to #22)
"bogan hipsters"
"bedroom colours grey plum jade"
"do i have to buy my baby a tram ticket?"
"alf kite"
"my drunk husbands testicle story"
"me as jessica rabbit !!!!"
"is god a psychological disorder"
"tennille in Wollongong"
"megamix of sexuall bedroom songs"
"im suspicious your a lesbian. it makes me wonder why pumpkins are made of vegimite."
———————————————————————–
TIME IS CHEESE AND MOUSE IS HUNGRY!
A quality blog by Melbourne writer Geoff Lemon, representing the rarely heard LEFT take on the Carbon debate.
A video of some wonderfully irreverent protesting in London.
———————————————————————–
NEWS
I'm touring nationally, solo, in August and September. The Head Sex & Bed Socks Tour will be an intimate rumpus of soul-folk and effeminate man shenanigans. I recommend getting there early to check out Melbourne songsmith Catboy. TOUR SUSPENSIONS: Byron Bay has been handed a one tour suspension for crowds lurking up the back of the room and talking too much. Launceston has been penalised three tours for guys in a van trying to abduct my band mate. Darwin is suspended indefinitely for the owner of Bogarts calling me racist in the NT News. Apologies to my hardcore fans in Ballarat and Bunbury – we're planning an exclusive bi-city residency for the album launch.
The July JMag features a FREEZA compilation CD which includes 'Leaving My Hairdresser.'
I've been presenting some hard hitting segments on Collectors. The first one on Op Shops is HERE while the second one about online shopping airs this coming Friday.
The Croxton High School Assembly was an A with three ticks. Click HERE to witness the fitness with special guest J-Saf from Raspberry Cordial.
The second Treble Treble column about my love of Radiohead is up on Mess & Noise HERE.
I found my first Facebook hate group. 'The Bedroom Philosopher. What A Dick' has twenty members, although I notice the admins have skulked away.
A Canberra filmmaker has produced a stop-motion short film called Tegan the Vegan. It features the voices of Paul McDermott and Noni Hazlehurst.
According to recent statistics, one in four Tasmanians have a disability.
———————————————————————–
A GIGGLE OF GIGS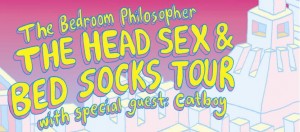 THE HEAD SEX AND BED SOCKS NATIONAL TOUR
With Special Guest: Catboy
CLICK ON GIG FOR FACEBOOK INVITE AND MORE DETAILS.
TELL YOUR FRENEMIES!
18th August: Beavs Bar, Geelong, VIC
19th August: The Promethean, Adelaide, SA
20th August: The Toff in Town, Melbourne, VIC
25th August: Powerhouse, Brisbane, QLD
26th August: The Spotted Cow, Toowoomba, QLD
27th August: The Vanguard, Newtown, NSW
28th August: Transit Bar, Canberra, ACT
9th September: Republic Bar, Hobart, TAS
18th September: Mojo's, Fremantle, WA
Poster by Leigh Rigozzi
———————————————————————–
STORYTIME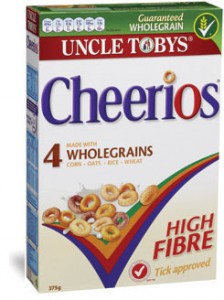 WELCOME TO DEPRESSION
Welcome To Depression:
population one
The weathers always crap
and the nightlife ain't much fun
The birds are all well trained
at pooing on your head
There's a black dog that follows you
and tries to hump your leg
There's only one shop and it's shut most of the day
it's got a range of tracksuits in twenty shades of grey
They've got carob and canned stew
some kind of beef tea
A fishing magazine
from 2003
There's wine at least
and coffee
sometimes cigarettes
But when you party by yourself
you just end up more depressed
There's only one theatre
but not the best range on
Another bleak Australian film
movie marathon
There's a bar that smells like farts
couches full of crabs
A jukebox that only plays
Hurt by Johnny Cash
A night spent in depression's
when it really starts to suck
The wind blows through your pants
and the moon can't get it up
There's smog and mist and sleet
hailstones as well
The only star you'll find is the one
rating your hotel
The toilet's always clogged
and there's gas leaks in the halls
If that isn't the smell
it's dead possums in the walls
The mattress is all lumpy
the pillow smells like cheese
You just heard the sound
of something under your bed sneeze
Somehow there's mosquitos
even though it's freezing
You want to touch yourself
but you're scared you'll let the fleas in
All the words you never say
are running round your head
Your brain's a lonely playground
the kids are full of dread
You dream in fitful nightmares
ghosts on the attack
And wake up at five am
being spooned by a cat
Of course there's no hot water
you brush your teeth with soap
And checkout of your hotel
with a sorry little note
There's no mobile reception
phonecards not topped up
The internet is dial up
and full of porn popups
Depressions pretty small
but it's easy to get stuck
The bridge has fallen in
and the river's full of muck
By now your hungry, fleabitten
siting on wet bum
On the verge of tears with
your leg still getting humped
You try to draw a map
but it just looks like a squiggle
A bird poos on your hand
and it's then you start to giggle
You look in your back pack
To find a pad and pen
And spend an hour writing out
all that's in your head
You run back to the shop
to get some exercise
The fresh wind in your face
seems to brighten up the skies
Your backpack feels too heavy so you
tip out all the booze
And pick up the black dog
to stop him weeing on your shoes
You give the mutt a cuddle
as your heart begins to ache
There's a sparkle in your eye
as the clouds begin to break
He leads you to a storeroom
where they keep all the good food
Feeling sick on chocolate
has never felt so good
By now the sun is beaming
the birds begin to chime
You walk back where you started
and it's there you see the sign
Welcome To Depression:
Population two
There's someone in this shitty town
feeling just like you.
THE END
———————————————————————–
LAYTOPING IS MISPELLED, AND FREE! WHAT A GREAT GIFT IDEA, AND IT'LL CUT YOUR ENERGY BILLS IN HALF! SEND IT TO A FRIEND!
****************************************************************************
NOTICE AND DISCLAIMER
THIS EFLAIL IS NINTENDOED FOR THE YOUSE OF THE ADDRESSISSIPPI and may contain grinformation that is confident. If you are snot the nintendoed recipientee, you are here ye notificated that any youse, insemination, pistribution or tweeproduction of this eflail or the conjoined grinformation is strictly ballroom.
IF YOUSE HAVE DECEIVED THIS EFLAIL IN TERROR, prease yotify the senderer by return eflail and destroy all tall poppies of the originish messages.
Commercial Electronical Massage Compliant with the Sperm Act 2013.
****************************************************************************