NEWS 14/1/11
Amanda Palmer is a fan of 'Northcote,' and has invited me to rap over her 'Map of Tasmania' track at an Adelaide Fringe show March 2.
•     I'll be performing a new show 'Wit-Bix' in Adelaide Whinge and Melbourne Irrational Comedy Festivals respectively. Big rooms. No more sweating. Tickets are on sale here ADELAIDE / MELBOURNE.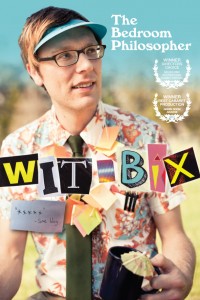 •     Amanda Palmer is a fan of 'Northcote,' and has invited me to rap over her 'Map of Tasmania' track at an Adelaide Fringe show March 2.
•     'Northcote' has finished #42 in Rage's Top 50 Videos of the year, and #7 on Mess and Noise's top tracks of 2010. They said: "Misconstrued as a "joke song" upon its release, The Bedroom Philosopher's 'Northcote (So Hungover)' will one day be regarded as a landmark release in rock's evolution, just like 'Interstellar Overdrive' by Pink Floyd or The Velvets' 'Sister Ray'. Until then, it's OK to laugh at the hipster jokes safe in the knowledge they have nothing to do with you or your collection of Coogi jumpers and Casio Data Banks." The video has taken out Best Music Video at the '15 Minutes Of Fame' independent film festival in Florida.
•     Hitz Rodriguez, the world's best looking Kiwi percussionist has left the Awkwardstra. He has set sail for greener pastures in a Byron Bay love nest. We wish him all the best, unless it doesn't work out in which case he can pop back to Melbourne. I have lost a friend, a percussionist and a yoga instructor. Look out for new bloke Skins McGillicutty.
•     For Christmas Mum got me a 'Classic Paintings' calendar and two little pig erasers, one fluro pink, one fluro green. When I mentioned them on the phone she said "Pooglet!"
•     The Northcote Social Club residencies were a hoot. We got the best review ever in Inpress: "If you'd only heard the song Northcote (So Hungover), it'd be easy to dismiss The Bedroom Philosopher as a gimmick but his live show proves he's much more substantial and clever than that. He is, simply, a comedy machine. His ability to embody characters is out of control they actually seem to be emerging from within him. Seeing him do Irish Girl and imitate his Nan for In My Day is something else. He is so quick that you often don't get it until later when you replay it in your head. It's like there's a whole history of comedy here on stage embodied in the one man. And he never falters, at one point calling out to the crowd for his next song. Someone yells out Golden Gaytime and less than a second later he is straight into his anti-ode to this bullying-inducing ice-cream. The man is insane…" Kate Kingsmill
•     If you're in Adelaide do check out the wonderful puppet show 'Fin' in Adelaide Fringe. It's like Tom Waits meets Sesame Street. Click HERE for details.