News 8/7/10
National Tour Aug/Sep on sale now, click HERE to pre-book.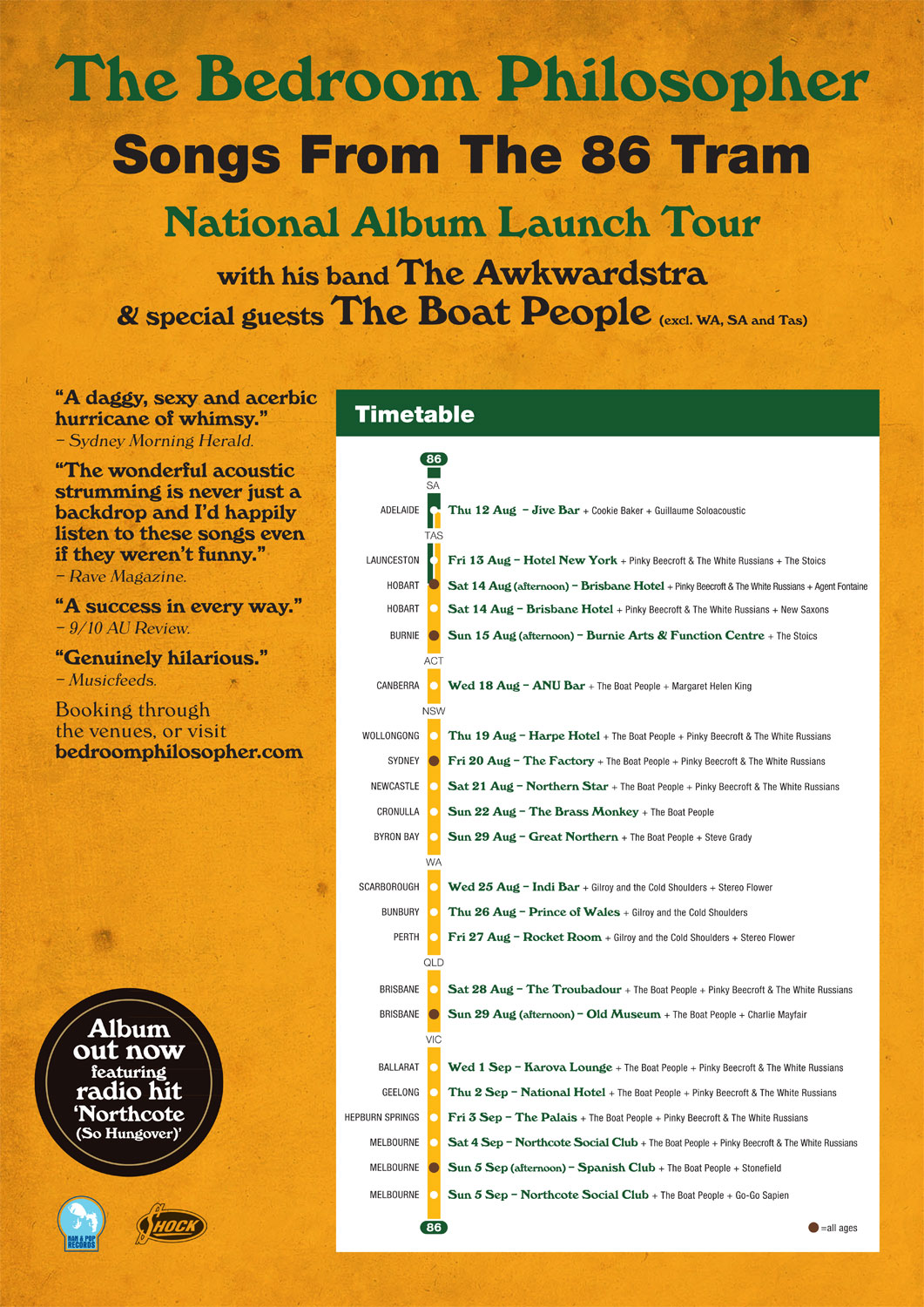 • The Northcote (So Hungover) video is viralling out of control. It's been Rage and Channel V videos of the week and will be aired on Video Hits this Saturday and Sunday. On the tubes it's nearing 40K views and going strong. Feedback has been predominately positive. We had a swell video launch where Pose Tattoo, a supergroup of Melbourne indie muso's played a gig. Sad Sanderson busted out 'Boys Do Cry' plus the original 'Hey! That's Sad.' Check them out HERE.
• To make matters more confusing, I participated in an online ad for Metlink Melbourne where I penned a parody of Northcote called 'Hurstbridge (So Sober)' and then shot a lo-fi clip for it which hit the Internet before the real one. So that's me doing a character, parodying me playing a character parodying scenester culture. It's ironies equivalent of a back somersault with 3 ½ twists.
• The single tour was brilliant. Good crowds, good vibes. Hobart took out best gig honours with Canberra and Adelaide close behind. Sydney produced the baffling premise of my first sell-out show there but a mainstream audience down front who weren't that into me. Newcastle was rowdy but fun for a free show while Brisbane I was end of tour tired, forgetting the music to Sudanese. Launceston was a small write-off, where I had to revert to my 'walking up the back of the room yelling at people' shtick. Like a relationship it's no-ones fault, it's about timing and sometimes these things just don't work out.
• I have a manager and booking agent now, two things I've been hanging out for over the past two years. The delightful Anthea Cohen of Nibbles Music is taking care of business. I'll be sure to keep on my toes, as website commenter Boris Yeltsin said: "Please, for the love of music, don't get complacent now Justin. You're in a privileged position, you've worked for it, and deserve it." Thanks deceased Russian ex-President.
• The national album tour has been announced. I'll be doing a 20 date tour over a month with The Awkwardstra. You can pre-book tickets HERE. Main tour partners will be The Boat People, Australia's most under-rated band who have released a blinder of an album 'Dear Darkly.' I'd go as far to say it's the best Oz album since Sleepy Jackson's 'Lovers.' Check it out HERE. I also strongly recommend 'My Volcano' from superb eclectophiles Richard In Your Mind. Flaming Lips meets Avalanches.