The Bedroom Philosopher – Living On The Edge…Of My Bed (2003)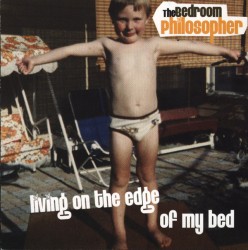 1. Theme
2. Kelly The Deli Girl
3. Weird Dream
4. High On Life
5. Generation ABC
6. Anthem For The Year 2002
7. Good Lookin' Girls
8. The Coughs Single Handedly Saved Rock N Roll
9. Happy Cow
10. Jesus On Big Brother
11. Disco Chicken
12. Quarter Life Crisis
13. Ballad Of The Wacky Tobaccy
14. Ian Thorpe Was Bored
15. McRock
16. Achy Breaky Big Mistakey
17. My Nan Really Likes Radiohead
18. Life Won't Wait Up For You
19. No Bum Blues
20. Radio Edit Of My Soul (live)
All tracks originally aired on Triple J's Morning Show and Weekend Breakfast between April-December 2002.
Written by Justin Heazlewood.
Produced by Jim Trail at ABC Studios, ACT.
Jim Trail: Backing vocals on No Bum Blues.
Design: Tambourine Design.
CD artwork shows incorrect track listing changed on purpose at the last minute by suggestion of then girlfriend. (The above listing is correct). Only 500 CD copies were ever produced, especially for my Melbourne Comedy Festival debut show (of the same name) in 2003. A box of 100 was lost in transit between Sydney and Melbourne and could be under a house at 45 Burke St, Blacktown where I was living with my nine year old cousin, her mother and grandmother.