The Harmonica Lewinski's – Songs By The Bushfire (2001)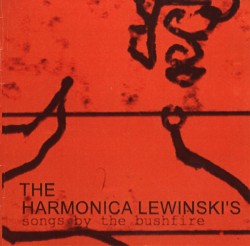 Listen to tracks on Soundcloud
1. Spankees Lunch
2. Home Brand Man
3. Rockafella Skank
4. Astroboy
5. The Country Practice Song
6. Rainbow Honey Eater
7. Here's Johnny
8. Life Won't Wait Up For You
9. Angree Tree
10. I Got A Girl
11. I'm The One Who Loves You (I'm The One That Needs You)
12. I Hate Electronica (Secret track)
13. Sounds of the Lakehouse (Secret track)
Recorded November 2000 at LakeHouse Studios, Michaelago, NSW.
Produced and Mastered by Ken Heazlewood, except Spankees Lunch recorded by Adam Mulquin in Wollongong.
Spankees Lunch written by Justin Heazlewood and Adam Forbes.
I'm The One Who Loves You (I'm The One That Needs You) written by Justin Heazlewood and Matt Kelly.
Rockafella Skank written by Norman Cook.
The Country Practice Song written by Matt Kelly.
Rainbow Honey Eater and Angree Tree written by Adam Forbes.
Here's Johnny written by Xtro/Qbrick.
All other songs written by Justin Heazlewood.
Drums: Stuart Duncan.
Design: Tammy Nicholson.
Egg: Tammy Nicholson.