John Clarke Interview (2017)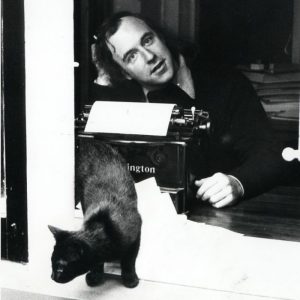 I was fortunate to interview John in 2015 for my RN series Funemployed. He was an intimidating fountain of sparkling integrity. He said some great things about being creative. You can hear the full interview HERE.
"If you're going to be in the sort of work I do then you need to work out a self that can be promoted, which may not be the you that lives in your house. It seems to me that you are your project. You are in charge of your attitude. One of the key things in my field that people I've observed and liked when I was young, they're all people who worked out who they are. If there's a message in what they did it's 'be yourself.' Don't try and copy me, be you.
I started off as a performer. I only began to write as a way to generate material for myself to perform. I've learned so much from having to do that. It's marvellous. There's nothing I like more than a blank page and a phone ringing….and where is it?
If I weren't being paid to do this I'd be doing it anyway. There are periods of what other people would call unemployment in which I call development. There's a great deal of haphazard about all this. You need to be happy to do it, it needs to be a pleasure. A day without some mischief is a wasted day.
I still think of myself as learning so much about what I'm doing I still think of myself as quite young in the sense of developing. I think I'm pretty slow. I'm a pretty slow developer. I think about things pretty slowly. And I very slowly to an understanding of them. I haven't got through the heats yet.
I always thought there was an interesting difference in the ways Paul McCartney and John Lennon dealt with the breakup of the Beatles in creative terms. Paul did a whole lot of stuff that was very good but appealed to the audience that they'd had in the first place and John wrote stuff for his own age as it got older. And that was sometimes much more difficult to sell because he was not fitting into the pop music mould.
Perhaps both those things are in your head as well. Whether what you're trying to build is an audience or an interesting life. You're very, very lucky if you have an audience. I've always liked my audience because with any luck I'm in it.
One of the reasons we like the arts is not that we're looking at people who are creative and we're not, it's that they've done something that makes us creative. By appreciating it, it resonates against all sorts of things in our memories and we're thinking creatively. We're taken away from all the other ways in which we're taught to think in order to have a functional life. I think that's a privilege to be in a role where you're part of that engagement with the public.
The last thing you'd want to listen to as an authority on what you're doing is whatever's being said. Have a look at it by all means, but don't waste too much time. Get the lawns done, would be my advice. You need to have good people around you who tell you the truth.
It doesn't get easier over time. The bureaucracy has fresh troops."