Short Story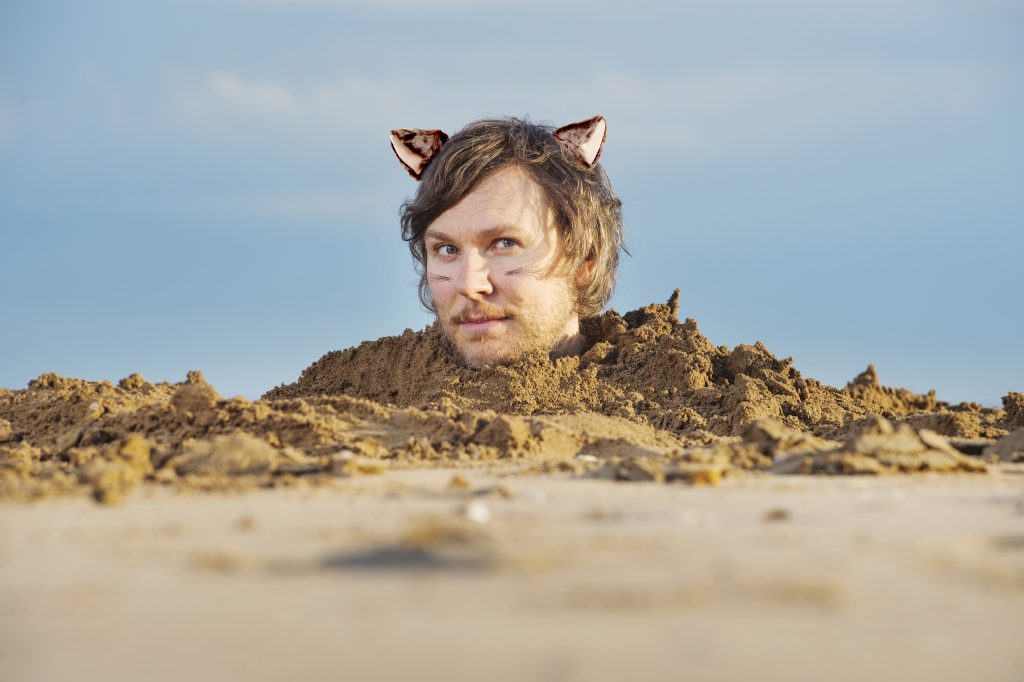 pic: elise derwin
Comedy jazz-cat The Bedroom Philosopher is a whip-smart powerhouse of puns and pathos. The Tassie born "Jarvis Cocker of Stand-Up" rose to fame with a songwriting segment on Triple J's Morning Show. He has gone on to release several albums including the genre-hopping Songs From The 86 Tram. His madcap live shows have earned him a wisened following and made him a festival favourite.
In 2006 his oddball opus I'm So Post Modern was an unlikely hit, being voted #72 in Triple J's Hottest 100. The single was taken from the debut album In Bed With My Doona described as "the Sgt. Peppers of indie folk-comedy" (by BP when he wrote the review for street press.)
In 2010 the laser-sharp parody Northcote (So Hungover) became a hipster-slaying anthem. The iconic, rock-dog adorned video won international awards and gained half a million views. Songs From The 86 Tram was a sell-out at Melbourne Comedy Festival, taking out the Directors Choice award.
Moonlighting as Justin Heazlewood, BP was a senior writer for Frankie magazine. In 2012 he released The Bedroom Philosopher Diaries, earning high praise from Neil Gaiman. In 2014 he secured a deal with Affirm Press to pen Funemployed, a self-help memoir about life as an artist in Australia. He launched it by reading all 300 pages over thirteen hours.
In 2014 he won ABC's Fresh Blood, writing and starring in Crazy Bastards, a parody of Mad Men set in 80's Oz. In 2015 he was commissioned to produce the series Funemployed for Radio National.
The Bedroom Philosopher has appeared on Spicks & Specks, Adam Hills Tonight, Melbourne Comedy Festival Gala & most pertinently, Rage. He's performed at the Big Day Out, Falls Festival & Woodford Folk Festival. He has supported Amanda Palmer, The Dresden Dolls, Dan Kelly, Tripod & Peter Combe.
"A daggy, sexy and acerbic hurricane of whimsy." – Sydney Morning Herald
"He is so hip, he's absolutely not hip at all." Amanda Palmer.
"It's a miracle that this odd juxtaposition of delicate songs and such over-the-top stage antics works at all, given that it demands the B.P. be both modest and a shameless show-off simultaneously. But that it's such a delightful piece of whimsy is entirely down to his irresistible self-mocking charm. Wonderfully touching, quirkily individual and always unexpected. If you liked Flight of the Conchords then you'll love this." Chortle
"If Bob Dylan had spent his time growing up in Berwick he might have more in common with the Bedroom Philosopher…one of the few artists making a genuine attempt to explore the oddness of our age." Helen Razor, The Age
"I'm impressed that this guy's still around and relevant. I met him at a show a few years ago and we traded CDs, nice guy, sort of a genius." Art Rush, on Facebook.
RELEASES
Funemployed LP (2015)
Funemployed EP/Book (2014)
The Bedroom Philosopher Diaries (2012)
A Very Beddy Christmas EP (2011)
Songs From The 86 Tram (2010)
Brown & Orange (2009)
Folkstar / I'm So Post Modern Maxi-Single (2006)
In Bed With My Doona (2005)
Living On The Edge…Of My Bed (2003)
FESTIVAL SHOWS
Cat Show (2017)
High School Assembly (2012)
Wit-Bix (2011)
Songs From The 86 Tram (2009 – 2010)
The Renegades Of Folk are The Renegades Of Folk w/ Josh Earl (2006)
Pyjamarama (2005)
In Bed With My Doona (2004)
Living On The Edge…Of My Bed (2003 / 2006)