Get Up Mum in Fitzroy
I'll be presenting Get Up Mum at the Fitzroy Town Hall (Reading Room) Wednesday Feb 13. It's free but bookings are recommendude!. For more news about the book do suss out justinheazlewood.com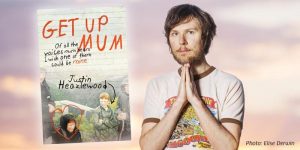 My cack batalogue is now on Spotify. The business is so tough I have to pay to hear my own music.
My childhood memoir Get Up Mum has gone into a second printing. Thanks everyone for your support, retail and otherwise. Signed copies with basketball cards are back in stock via the shop.
I'll be at my old haunt Canberra launching my old Uni's writing anthology Analecta. Monday Nov 19, 7pm. Smith's Alternative Bookstore. Details HERE.
Check out the latest promo video featuring excerpts from Montello Primary School Book Week 1992!
For more book related biz visit justinheazlewood.com.