Justin Heazlewood: Selected Readings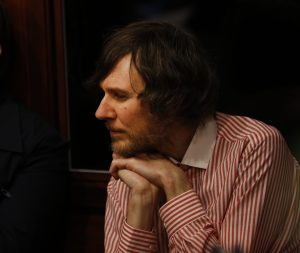 I'll be fanning my feathers and swanning around at Bella Union (Trades Hall) Sep 24. It's a chance to hear my writing and see my subtler songs. I'll be joined by the eloquent Elizabeth Flux. It's in the arvo. Do pop along! TICKETS HERE.
So, ten Melbourne writers were asked to write about ten locations around Darebin for Writing This Place. I was given Northcote Town Hall. For my piece Stella & the Elders I wanted to reflect on disability advocate Stella Young who performed her show 'Tales From The Crip' there. I also included some Aboriginal Dreamtime figures. It's the first fiction I've written in ten years.
I'll be taking part in the Wheeler Centre event Harry Who? The True Heroes of Hogwarts October 25 at the Athenaeum Theatre. I used to get called 'Harry' when I worked at the Canberra Labor Club. I was the only bloke with mid-length hair and glasses serving glasses of mid-strength.
Courtney Barnett & Kurt Vile have joined forces for a new single. (bagpipeless). They're the new Kurt & Courtney! (One YouTube commenter can't be wrong).
Comedian Nelly Thomas has a feminish kids book called Some Girls. She's bung on a Pozible campaign for it, which is humming along nicely.