The Bedroom Philosopher – Brown & Orange (2009)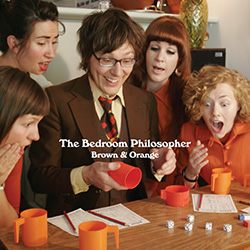 Available from Bandcamp or iTunes.
1. Strange Piece Of Music
2. Party In My Head
3. What Am I Supposed To Be Doing?
4. The Happiest Boy
5. I'm So Lonely
6. (Brown)
7. Jesus On Big Brother
8. For The Love I Have For You
9. Circus Bear
10. (Orange)
11. Swan Song
12. Deux Cygnes Noirs
13. Wow Wow's Song (La La La)
14. (Social Life In The Psychiatric Unit 30/10/77)
All songs written by Justin Heazlewood except for '(Social Life In The Psychiatric Unit 30/10/77)' written by Justin Heazlewood & Richard Cartwright.
Produced by The Bedroom Philosopher with Chris Scallan, Martin "Moose" Lubran and Ken Heazlewood.
Mixed by Chris Scallan at Soft Centre Studios.
'Wow Wow's Song (La La La)' mixed by Martin "Moose" Lubran & Craig Harnath at Hothouse Studios.
Mastered by David Briggs at The Production Workshop.
Design by Tambourine Design.
Photos by Telia Nevile except for Brown & Orange clocks and cup by Tatjana Pitt & ceramic swan with ties by Clare Rae.
Justin Heazlewood: Vocals, acoustic guitar, electric guitar, wurlitzer, accordion, vibroslap, percussion, computer keyboard.
Martin "Moose" Lubran: Electric guitar, bass, vibraphone, synths, programming, drums. arrangements on 'Deux Cygnes Noirs' and 'The Happiest Boy.'
Haydn Meggit: Drums and percussion.
John Maddox: Double bass.
Harry Angus: Trumpet.
Andy Hazel: Bass.
Richard Cartwright: Sitar.
Michael O'Connor: Flute.
Xani Colac: Violin.
Hanna Silver: Piano and synths.
Tom Crowe: Slide guitar.
Miles O'Neil: Banjo.
Will Hindmarsh: Harmonica.
Anna Knight, Scott Edgar, Stephen Gates, Simon Hall: Vocals.
Ken Heazlewood, Saskia Moore, Clare Rae, Emma Heeney, Eva Johansen: Backing vocals.