The Bedroom Philosopher – In Bed With My Doona (2005)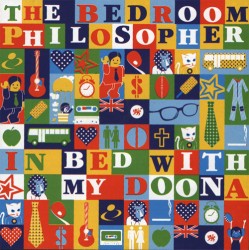 Available from Bandcamp or iTunes.
1. Love Theme From Centrelink
2. Golden Gaytime
3. Megan The Vegan
4. I'm So Post Modern
5. McRock
6. Megan The Vegan (reprise)
7. Folkstar (Pooglet With Strings Mix)
8. High On Life
9. Kicking The Footy With God
10. You're So Vague
11. Saving Myself For Marriage
12. Everybody's Got The Same Insecurities As You
13. Happy Cow
14. The Heart Song
15. Folkstar Part II
Written by Justin Heazlewood.
Recorded between July-October 2004 at HumbleHouse Studios, Penrith NSW.
Produced and Mastered by Ken Heazlewood.
John Maddox: Double bass on Folkstar.
Design by Tambourine Design.
The first 100 copies contain Track 16 'Special Features' which is a live track recorded at Mic in Hand comedy night, Friend in Hand Hotel, Sydney September 2004. 100 copies featuring special 'coloured barcode' (made up of my mobile number at the time) but no live track were produced for Tripod tour of regional W.A. 2005.
Folkstar has has had three different incarnations. In the original pressing of 100 I am speaking the vocals. In the next 500 I am rapping the vocals but without the presence of double bass (Pooglet 78″ Mix) in the current rendition I am rapping with double bass (Pooglet With Strings Mix). The latest version of In Bed With My Doona also features a remixed version of 'Heart Song' and updated lyrics in 'McRock.' (I wasn't convinced that Sick Puppies were still relevant so I updated it to End Of Fashion. Naturally, since then Sick Puppies have made a comeback and are possible more popular than End Of Fashion. Ah, the joys of committing pop culture commentary to disc. anyway.
'You're So Vague' was removed from several CD versions of album due to me freaking out that I might get sued for parodying Carly Simon's 'You're So Vain' without seeking permission. The track is restored on all digital versions.